Women's Avant Fest '97
Photographed by Marc PoKempner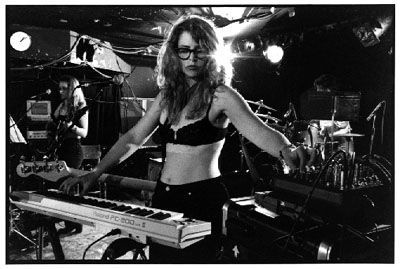 4. Kitty Brazelton, WAF '97 producer/curator, processessing samples, bass, voice and composition with guitarist-singer-sound processor Dafna Naphtali and drummer Danny Tunick, as WHAT IS IT LIKE TO BE A BAT?
Click image to view enlargement
Copyright © 1998. Photos Copyright © 1997, Marc PoKempner (call 773-525-4567 for reproduction permission)
Contact: Hman@jazzhouse.org for further information.