Writing the New Jazz History
December 13 of 2001: "Are we talking about the history of new jazz, new histories of jazz (re-visions/corrections of accepted conventions in the jazz narrative) and/or new histories (history" in a new way) that happen to be about jazz?"
Duke for the Future, Parts One and Two
Chicago Now!
It's a tough minded and yes rather windy city, from which some of jazz's hardiest improvisations, most fully-blown music flows. Parochial? Compared to New York, Los Angeles, Berlin, Paris, London, Rome, Rio? Perhaps. But the power of music from Chicago Now is potent. To celebrate the city of its birth the Jazz Journalists Association, in association with the Jazz Institute of Chicago, Music Now, the Mercury Lounge and Delmark Records, held an on-line forum: Dec 3, 8 p.m. to 11 p.m. EST, at www.jazzhouse.org.

Panelists included members of the AACM, Aaron Cohen, John Corbett, Lauren Deutsch, James Hale, Art Lange, John Litweiler, Howard Mandel, Terry Martin, Ted Panken, Marc PoKempner, Neil Tesser, Penny Tyler other opinion shakers and music makers. . . .
Re: Fiction & Jazz, Oct 14, 8 to 12 pm EDT, the third JazzHouse on-line forum, with panelists Rafi Zabor (The Bear Comes Home), Warren Leight (Sideman, on Broadway at the Golden Theater starting Oct 18), Bart Schneider (Blue Bossa), Bill Moody (The Sound of the Trumpet, Death of a Tenor Man, Solo Hand, forthcoming Bird Lives!), Art Lange (ed., Moments Notice: Jazz In Poetry and Prose), Marcela Breton (ed., Hot and Cool: Jazz Short Stories), Neil Tesser (The Playboy Guide to Jazz), David Meltzer, (Reading Jazz, the forthcoming Writing Jazz, The Agency Trilogy and Orf). Moderated by Howard Mandel.

Also: Update on Donald Newlove, excerpt from his jazz-fiction classic The Drunks, and a bibliography of jazz fiction.
Trad Jazz - Ignored and Endangered
On July 5, 9 p.m. to midnight (US Eastern Time), the JJA sponsored its second live on-line forum, "Trad Jazz - Ignored and Endangered," featuring Mississippi Rag editor and publisher Leslie Johnson, George Kanzler, Russ Dantler, and a slew of other knowledgable writers and broadcasters involved with classic jazz from bygone eras and players working in traditional idioms today. The big question is: If classic jazz is the our musics' roots, why isn't it being covered? And what can we do about it? The transcript is posted here, and invites further coments on each item discussed.

We're hoping to follow up with monthly on-line chats on topics including The Basics of Improvisation, Jazz and Fiction, Jazz Biographers on Their Subjects. Let us know if you've got topics to suggest, too.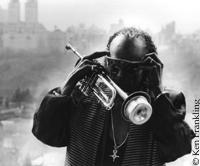 Miles' Electric From 9-12 (EDT) Sunday evening, September 28, 1997, a select group of musicians and writers gathered here to hold an intimate discussion of Miles' electric years.