Photo of the Year, 2003 Nominees
---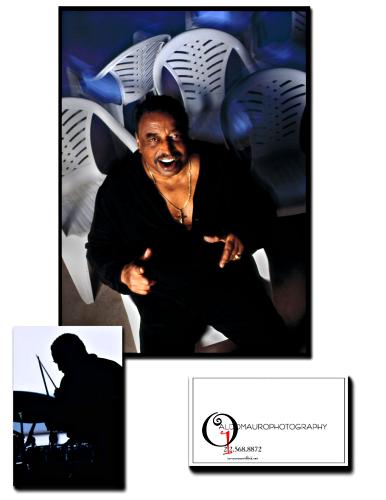 Aldo Maura photo of Chico Hamilton during a rainstorm delay of Chico's show on Recreation Pier in Yonkers.

- Jeffrey Andrew Caddick
---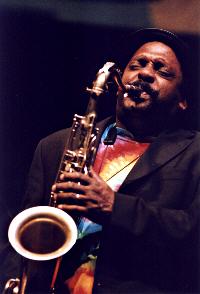 David Murray with the Gwo-Ka Masters

Christopher Hovan
Jazz Journalist/Photographer
All About Jazz, Jazz Review, The Cleveland Scene, Jazz & Blues Report
---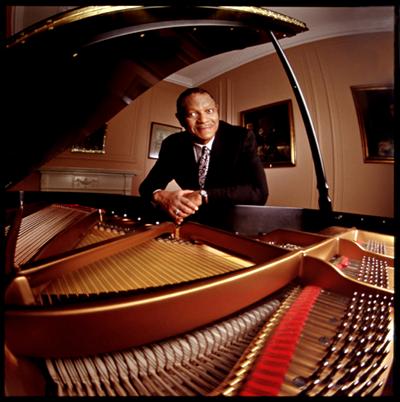 Gene Martin is a personality portrait photographer based in New York City. He has photographed celebrities from Margaret Thatcher to Bill Cosby but is best known for his award winning conceptual portraiture of jazz musicians. He has shot covers for most major and independent record labels as well as most jazz magazines worldwide including 52 covers for JazzTimes. His work with jazz musicains has been the cover story of a number of photography magazines as well most recently being the July 2002 issue of Rangefinder. He was commisioned to photograph this portrait of jazz legend McCoy Tyner at the Steinway Piano showroom in New York.

Gene Martin Photographics
celebrity/fine portraiture
New York City
GMPfoto@aol.com
Tel: 212-861-0811
Cell:917-929-8767
---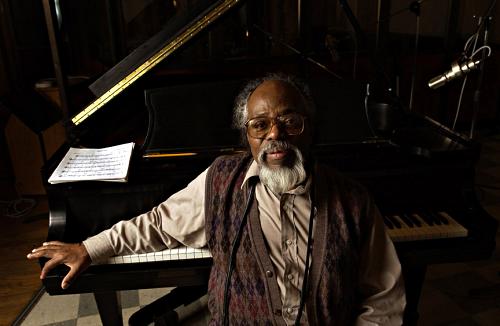 Title: "Sir Roland Hanna, Sept. 22, 2002"

PHOTO BY: John Abbott

e-mail: abbottphoto@earthlink.net
Telephone: 212-765-2342
Website: www.johnabbottphoto.com
Fax: 212-765-2137
Cell: 917-331-2392
Stock Photos: www.bigshotstock.com
---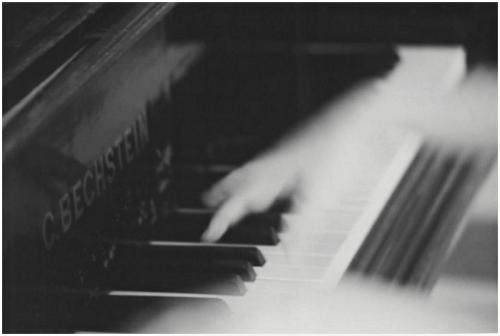 Name: "Manos" (Hands)
Artist: Albertina Crescitelli
Place: Valentin Bianchi Winery - San Rafael (Argentina).
Date: December 29, 2002
Photographer: Jorge Lardone
---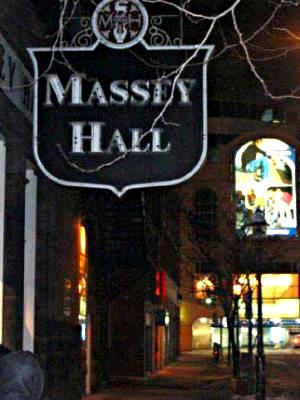 Massey Hall

- Ken Franckling
---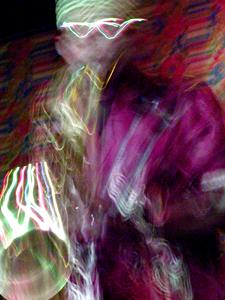 Mwata Bowden, Velvet Lounge Chicago 2002

- Lauren Deutsch
---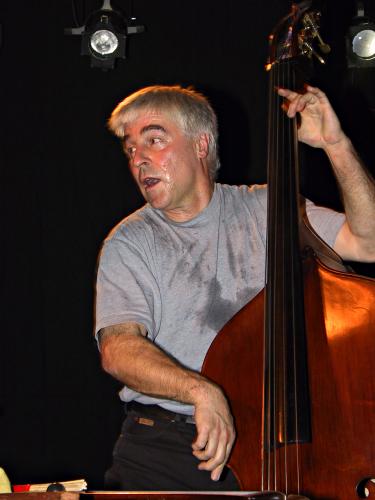 British Bassist Barry Guy

Laurence Svirchev is a jazz journalist and photographer working out of Vancouver, BC, Canada. His jazz journalism website is www.svirchev.com and his photographic website is www.svirchev.com/editorschoice.
---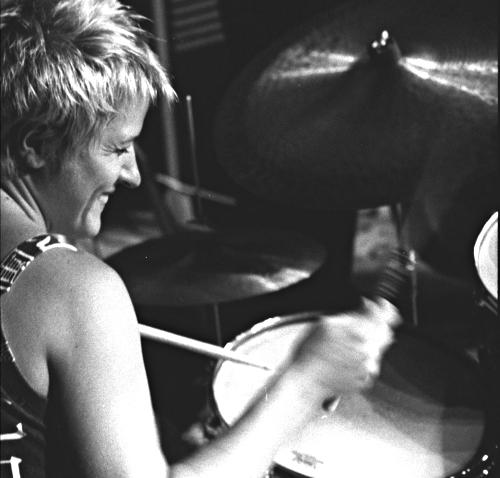 Allison Miller drummer w/ Virginia Mayhew Quartet at The Jazz School Berkeley CA 10/03

- Lee Tanner
---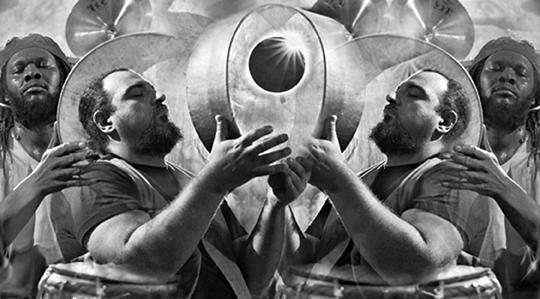 Montages seem perfect for Jazz illustrations - they visually recreate the blending and layering of the music, and the possibility of refining one's vision ofer the course of time, like other visual artists have always done, is very satisfying. This one, of drummers Michael Zerang and Hamid Drake at their annual solstice drum duet concert is my favorite so far. I tried to make in-camera double exposures on the scene, with some success, but this photoshop combination of two straight photos worked much better! thanks - MPoK

Marc PoKempner, photojournalist
web: www.pokempner.net
Visual advice and real photographs
1453 W. Addison St. Chicago, IL 60613
ph: 773-525-4567
cel: 773-505-4568
fax: 773-525-0501
---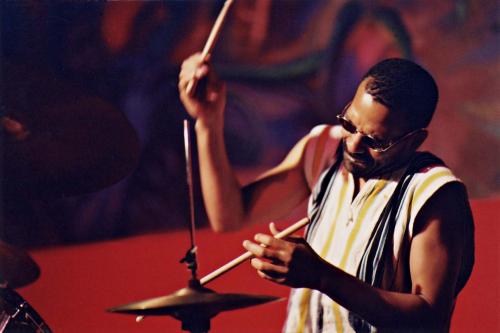 This was Kahil El'Zabar at Hothouse in Chicago last August, going for it with a highly cymbalic gesture.

Hope you like it!

- Michael Jackson
---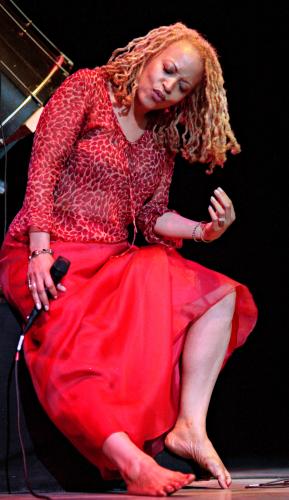 Cassandra Wilson

- Mitchell Seidel
---
Hi there! I would like to nominate the attached photo taken by Pat A. Robinson. This is Poncho Sanchez at the 2003 Hal Leonard Jazz Series, Milwaukee, on February 1, 2003. I think this photo truly captures Poncho's passion and deep concentration in performance and is well worth nominating.

- Todd S. Jenkins
---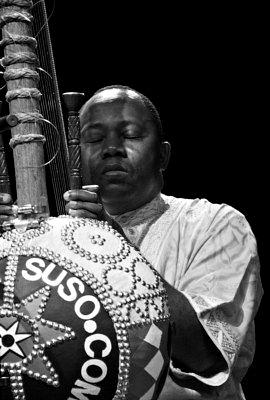 Here is the photo of Foday Musa Suso for Best Jazz Photo of the Year nomination. It was taken during Jack DeJohnette - Foday Musa Suso duo set at Saalfelden Jazz Festival in Austria on August 23, 2002. Photo reports from this event and day by day New York jazz life can be found at Downtown Music web site: www.downtownmusic.net.

Best regards,
Peter Gannushkin
---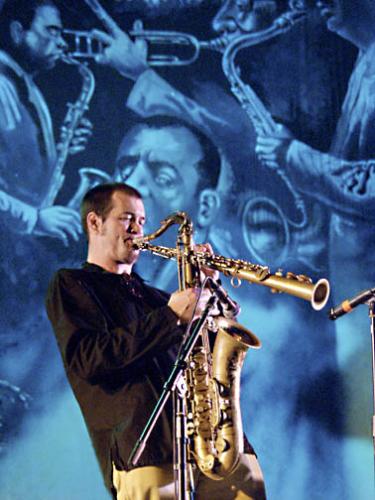 The shot is of Jay Collins, performing at the Havana International Jazz Festival this past December. Jay was a member of Bobby Sanabria's 'Quarteto Ache'.

R. Andrew Lepley
RAL Photography
(201) 876-9599 Ph/Fax
(201) 388-7783 Mobile
Studio / Stage / Location
Music Stock Images
Gallery Links-
Music Images
Street Shots
---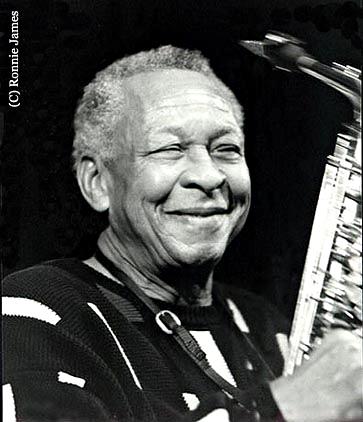 Sixty nine year old stroke survivor Frank Morgan enjoys a moment at the 12th Annual East Coast Jazz Festival in Rockville, Maryland. Now fully recovered, Morgan is once again getting great reviews.

Photo © 2003 Ronnie James Photography
www.ronniejamesphotography.com
---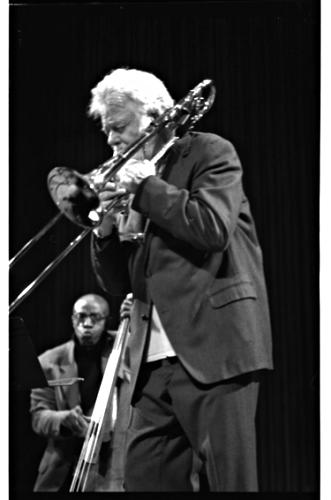 Roswell Rudd and Reggie Workman at Lincoln Center
Date: February 21, 2003

Photographer/clarinetist Rozanne Levine is co-director of Acoustics - a CD, concert and exhibit production company; is leader of the group Chakra Tuning and a member of RoMarkable and The New Reed Quartet; is on the freelance staff of AllAboutJazz-New York; and has had her photographs published internationally on CDs and posters and in magazines, newspapers and books.

Rozanne Levine
E-Mail: rozmark@bellatlantic.net
Web site: www.ejn.it/gallery/levine.htm
c/o Acoustics
311 Liberty Avenue, #2
Jersey City, New Jersey 07307-4417
Tel/Fax: +1-201-798-2166
---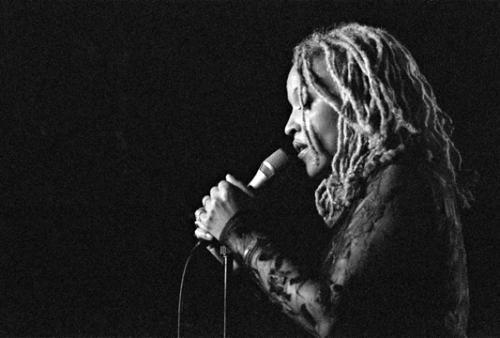 Caption: Cassandra Wilson performing at the Contemporary Arts Center during the New Orleans Jazz and Heritage Festival 2002.

Jazz Photographer: Skip Bolen

Camera: Leica R8 with 135mm f/2.8 lens
Website: www.skipbolenstudio.com
E-mail: skipster@skipbolenstudio.com
Tel: 213.840.9259
---
All photos copyright © by the respective photographers.