When Timme Rosenkrantz and I got off the Queen Mary in February 1937, we expected to have a good time. Timme had been to New York from Denmark before, and he had raised my high hopes considerably on the way over, but what we experienced far surpassed our expectations.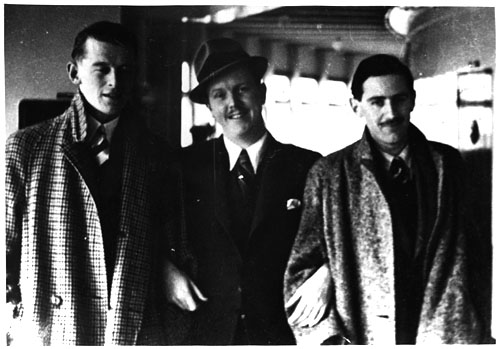 Stanley Dance (right) and Baron Timme Rosenkrantz (middle) on the Queen Mary on the day it arrived at New York in February 1937 (the individual on the left is unidentified).
copyright © 1999, Duncan Schiedt Collection
The so-called Swing Era was reaching its apogee. In three weeks, for example, I heard the big bands of Duke Ellington, Count Basie, Jimmie Lunceford, Earl Hines, Chick Webb, Fletcher Henderson, Benny Goodman, Tommy Dorsey, Mal Hallett, Teddy Hill, Willie Bryant, Louis Armstrong, Fats Waller, Erskine Hawkins, and Lucky Millinder -- and went home disappointed at not hearing those of Bob Crosby, Red Norvo, and Andy Kirk! But big bands were by no means the whole scene. I heard Billie Holiday both with Basie and at the Uptown House, where Artie Shaw sat in; Stuff Smith at the Onyx; Pete Brown's trio at the Brittwood; Joe Marsala's Chicagoans and jam sessions at the Hickory House; and small groups and pianists in many other clubs like the Black Cat in the Village.
The venues were as varied as they were numerous. The Goodman band played at the Pennsylvania Hotel and Tommy Dorsey's, with Bud Freeman and Dave Tough, at the Commodore. Stage shows with bands were becoming common at big movie houses, and Benny Goodman did a week at the Paramount that drew huge, excited crowds. The main ports of call, however, were the Savoy and Renaissance ballrooms, the Apollo Theatre, and the Cotton Club.
Shortage of sleep was inevitable, especially since during the day there were always recording sessions to attend. I was at that time a contributor to the bilingual French magazine, Jazz Hot. Helen Oakley, one of its American correspondents, was busily recording Ellington small groups and others led by musicians like Frank Newton, Chu Berry, and Billy Kyle for Irving Mills's Variety label. So there was always something to hear in the afternoons, too!
In short, it was a wild time when jazz was enjoying the greatest genuine popularity it was ever to know. Charles Peterson's photographs capture the spirit of those days better than any others, and it is marvelous to see so many giants of jazz when they were young or in their prime, when they and their fans were overjoyed about the success jazz was experiencing.
I planned to return the following year, but first Munich and then World War II intervened. Although I managed to renew my acquaintance with Ellington and his men in Paris in 1939, it was 1946 before I returned to New York and found a jazz scene radically changed in tone and attitude.
Vista, California,
October 1993
---