There's a memorable moment in Woody Allen's comedy Alice in which Mia Farrow, playing a quintessential Upper East Side Manhattan mom, chats with Joe Montegna, portraying a journeyman jazz saxophonist, while they wait for their kids to get out of school. Her life in a rut, Farrow has taken a self-empowerment potion prescribed by an herbalist in Chinatown and under its influence solemnly confides to Montegna: "You know, the first time I heard Coltrane play soprano it opened up a whole new world of harmonics for me."
I had a similar reaction the first time I heard the Italian Instabile Orchestra (IIO), Italy's freewheeling representative in the international jazz big band sweepstakes and the epicenter of a sonic universe around which that country's free jazz, ethno-jazz, electronic and New Music scenes orbit like satellite worlds. A cooperative ensemble organized in 1990 by trumpeter Pino Minafra, the IIO includes some of Italy's most visionary improvisers, composers and musical rebels specifically recruited because they represent diverse ethnic regions and aesthetic influences within the nation's multi-faceted cultural matrix. The band's continued existence is a miracle, considering its survival depends on integrating the personalities, playing styles and life experiences of 18 distinctly individualistic instrumentalists whose careers span four generations of activity in various Italian creative music circles. Yet over the course of the past decade the IIO has attracted a global following by developing a distinctive sound that blends radically different ingredients into a flavorful, albeit decidedly avant-garde, musical minestrone.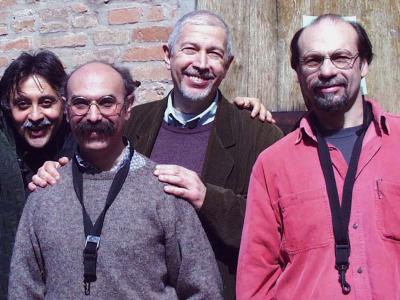 Four Instabiles (L to R): Italian Instabile Orchestra founder & trumpeter Pino Minafra; current IIO president & saxophonist Eugenio Colombo; founding bassist & ex officio IIO member Bruno Tomasso; saxophonist Daniele Cavallanti. Foto Credit: Adelaide Lussu
The anarchical, iconoclastic jazz big band has European precedents in Germany's Globe Unity Orchestra, Holland's Willem Breuker Kollektief and Austria's Vienna Art Orchestra; the IIO shares a penchant for cynicism, wit and sarcasm with these ensembles, though it embraces dissonance and freedom in a more melodic manner than its northern European counterparts. It doesn' t hesitate to lay siege to mainstream large ensemble performance practices, but does so with a sensibility that recalls a warm Mediterranean breeze as opposed to the bite of a bitter North Sea or the Alpine wind.
The IIO commemorated its tenth anniversary in 2000 with North American debuts at the summer jazz festivals in Vancouver, Toronto, Montreal and Chicago and then collaborated with pianist Cecil Taylor in Italy in September at the Talos Festival that Minafra directs in his hometown of Ruvo di Puglia. The celebrations continued through the fall with the release of the IIO's latest recording, Litania Sibilante, and the fourth edition of the "Appointment with Creative Jazz" festival devoted to the IIO and its sub-groups held in Pisa (a logical location given the fact that, as Down Beat critic John Corbett observed, the city's leaning tower is the most notorious image of instability in the world!). The band's banner year continued well into 2001 as Italy's leading jazz magazine, Musica Jazz, named the ensemble best Italian jazz band for the sixth time since 1992 and it burst out of nowhere -- after not even making the list last year -- to tie with the Either Orchestra for first place in the Big Band Deserving Wider Recognition category in the 49th annual Down Beat International Jazz Critics Poll published in August.
Litania Sibilante, an anagram of the letters that spell Italian Instabile, is the IIO's fifth commercially available release, its second studio recording and an ideal introduction to the orchestra (CDs of IIO festival appearances were released on Leo Records in 1992 and 1998, Neljazz released a collection of European concert performances in 1997 and ECM produced the band's first studio recording in 1995.). The new CD includes expanded, refined and refocused versions of three staples from the IIO's repertoire that appeared on its live recordings? Gianluigi Trovesi's "Scarlattina," a work infused with the melodies and rhythms of the traditional Bergamasque dances of the woodwind virtuoso's home in Northern Italy (which also inspired a suite by Debussy); "Litania Sibilante," a kaleidoscopic mosaic of fractal themes by Giancarlo Schiaffini, a seminal member of Rome's free jazz and New Music scenes who, in addition to playing trombone, tuba and electronics, is also a physicist; and "Herr Fantozzi," Minafra's satirical portrait of a bumbling bureaucrat who is a popular character in classic Italian cinema which the IIO traditionally plays at the end of its concerts. Like the late Lester Bowie, Minafra is a trumpeter with a madcap sense of humor and as he rants and raves the ensemble backs him blow for blow like a riotous band accompanying a clown at a raucous Southern Italian circus.
The remaining tracks range from "M 42," a piece with urban funk overtones by the IIO's youngest member, the 35-year-old trumpeter Alberto Mandarini, a former member of Paolo Conte's orchestra; cellist Paolo Damiani's "Sequenze Fughe," the most "classically"-oriented composition on the CD; and an arrangement by Schiaffini of the standard "Lover Man," a feature for alto saxophonist Mario Schiano who at 67 is the IIO's second oldest member (violinist Renato Geremia is 70) and its guiding dadaist spirit (Schiano and Schiaffini have been collaborating together since 1966 when they co-founded the infamous Gruppo Romano Free Jazz.). Trumpeter Enrico Rava and accordionist Antonello Salis appear as guests on Litania Sibilante, the latest in the line of soloists invited to collaborate with the IIO that includes trumpeters Paolo Fresu and Bowie, pianist Misha Mengelberg and saxophonist Willem Breuker. (A member of the IIO from 1997-1999, Rava was previously a member of the Jazz Composers Orchestra, Globe Unity Orchestra and Cecil Taylor's European Orchestra.)
Eight of the IIO's current members -- Minafra, Damiani, Trovesi, Schiaffini, Schiano, drummer Tiziano Tononi, saxophonist Daniele Cavallanti and saxophonist-flutist Eugenio Columbo -- have collectively appeared on hundreds of albums as leaders or sidemen. If one adds to their output that of former IIO members like Bruno Tommaso, the band's bassist from its inception until 1998, pianist Giorgio Gaslini, whose tenure ran from 1991-1996, and Rava the resulting discography would provide a blueprint tracing the evolution of modern jazz in Italy since the mid-1960s and include dozens of notable crossover projects as well.
Tononi, the IIO's drummer since its inception (and co-founder, with Cavallanti, of the legendary Italian jazz band Nexus which turns 20 in 2001), comes to jazz influenced as much by Jimi Hendrix and Frank Zappa as the Art Ensemble of Chicago, Charles Mingus and Ornette Coleman. His latest CD, We Did It, We Did It (Rahsaan and the None) - The Music of Rahsaan Roland Kirk and More As Seen / Felt / Re-Interpreted by Tiziano Tononi & The Society of Freely Syncopated Organic Pulses, is a work of Wagnerian proportion that deservedly won best Italian jazz album of 2000 honors in Musica Jazz. A monumental 236-minute salute to the remarkable blind saxophonist, flutist and composer who often played three instruments at a time, the project completes a trinity of tributes albums by Tononi that includes an homage to John Coltrane and one to Don Cherry, Awake Nu (Musica Jazz's Italian jazz album of the year in 1997).
Tononi alternates original compositions with his inventive arrangements of some of Kirk's most memorable works (e.g., "The Black and Crazy Blues," "The Inflated Tear," "Serenade To A Cuckoo," "Volunteered Slavery" and "Rip, Rig & Panic") as well as of music by other artists who inspired the drummer (e.g., Mingus, Coltrane, Fats Waller, Sidney Bechet, Duke Ellington, Stevie Wonder and Bob Marley). In a note inside the CD Tononi warns: "If you believe in politically correct, straight-to-bed jazz, and think CDs should not exceed a given time length and so on, you' re on the wrong track. But why not take chances and for once go for the wild and crazy? You're gonna find no medieval references or presumed Mediterranean roots here, not even new-age jazz or events of any kind. This is the ultimate updated contemporary jazz version . . . We invite you to the Roland Kirk Memorial Barbecue . ." This mammoth Kirk tribute gets a bit manic at times but is one of the most extraordinary jazz recordings of recent years.
Trovesi, voted best Italian jazz artist of 2000 by Musica Jazz, is a versatile saxophonist, clarinetist, flutist and a prolific composer renowned throughout Europe whose international visibility should increase thanks to the recent release on ECM of In Cerca di Cibo (Searching for Food). A folksy collaboration with accordionist Gianni Coscia, the project follows in the vein of Radice (Roots), the duo's 1995 debut on Egea Records, a Perugia-based label specializing in recording the acoustic fusions of jazz with classical or traditional music that Trovesi favors. For example, on "Round About A Midsummer's Dream" he combines a baroque trio (two violins and a cello) with a folk trio (accordion, contrabass and tambourine) and a contemporary trio (reeds, bass guitar and drums) to perform an hour-long suite inspired by A Midsummer Night's Dream. Shakespeare, jazz, northern Italian folk songs and Renaissance dances all come together in this musical montage that mirrors the magical mixture of fantasy and reality of the Bard's timeless play (Trovesi's nonet and his duo with Coscia placed second and third in the Musica Jazz poll for best Italian jazz band of 2000).
On La Banda, Minafra pays tribute to and updates the brass band heritage that began bringing opera music to remote regions of Italy during the 19th century, a beloved musical tradition responsible for training generations of Italian horn players that still flourishes in rural areas today. A native of Southern Italy's Apulia region who studied trumpet with Nino Rota at the Bari Conservatory, Minafra conceived an ambitious two-CD project that presents the Banda Città Ruvo di Puglia performing arias by Bizet ("Toreador"), Verdi ("La Donna e Mobile"), Puccini ("Nessun Dorma") and Rossini ("largo Al Factotum") as well as contemporary works for "banda" by Rota, Trovesi, Breuker and the French tuba player Michel Godard on which the trumpeter, Trovesi, Breuker and Godard appear as soloists.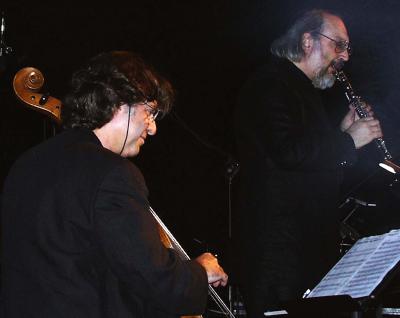 Cellist Paolo Damiani, currently in his second year of a three-year term as artistic director of France's Orchestre National de Jazz, and multi-reed virtuoso Gianluigi Trovesi are founding members of the IIO. Foto Credit: Mitchell Feldman
Damiani, a Roman, explores his Sardinian ancestry on Mediana, an ethno-jazz project that showcases the "launeddas," a 3,500 year-old reed instrument invented by shepherds that sounds like a hybrid of Pan's pipes and bagpipes. This noted bassist, cellist, composer and educator currently lives in Paris where he just began a three-year tenure as the first foreign artistic director of France's Orchestre National de Jazz and is writing and commissioning works for the ensemble that reflect his pan-Mediterranean musical vision that merges jazz improvisation with influences from North Africa, Italy, France and the Iberian peninsula.
Tales of Love and Death, by the IIO's cerebral saxophonist-flutist, Eugenio Colombo, also draws upon literature for inspiration although in this case the texts are the ancient Greek epic "The Odyssey" and the Biblical "Tale of Judith." This is a demanding work for three voices and instrumental quartet in which classically trained singers are asked to improvise and jazz musicians to follow scores that viscerally dramatize two powerfully symbolic scenes: The moment Ulysses strings his bow and reveals that he is not an old beggar but a warrior king, and the Hebrew heroine's casting off her widow's veil of mourning to vanquish her people's foes. Tuba Libre by Schiaffini is another project that requires deep listening. The trombonist focuses on his second instrument for his first solo CD and first as a leader on which he exclusively plays tuba. Schiaffini displays an amazing agility on this cumbersome instrument and coaxes lush sound textures from his horn whether playing it acoustically, modifying it electronically or using overdubs.
My Funny Valentine is the latest of the 54 recordings Schiano has appeared on as a leader or sideman since the mid-1960s and reveals that the saxophonist, revered as a founding father of the Italian avant-garde, is actually a closet lounge singer. Backed by a swinging rhythm section led by pianist Antonello Vannucchi he covers a slew of jazz standards with a deadpan delivery that takes full advantage of a vocal range that extends all the way from "do" to "mi." The recording is priceless and should do for jazz singing what Adam Sandler did for Verdi in his "Opera Man" skits on Saturday Night Live.
---
Selected discography:
Italian Instabile Orchestra

Litania Sibilante (Enja Records ENJ 9405)
Italian Instabile Festival (Leo Records LR 262 /263)
European Concerts '94 / '97 (Neljazz 0968-2)
Skies of Europe (ECM Records 1543)
Live in Noci and Rive de Gier (Leo Records CD LR 182)

Gianluigi Trovesi Nonet

Round About A Midsummer's Dream (Enja Records ENJ 9384)

Gianluigi Trovesi & Gianni Coscia

In Cerca di Cibo (ECM Records 1703)
Radice (Egea Records SCA 050)

Banda Città Ruvo di Puglia (w/ Pino Minafra, Gianluigi Trovesi, Willem Breuker)

La Banda (Enja Records ENJ 9326)

Paolo Damiani

Mediana (Egea Records SCA 067)

Eugenio Colombo

Tales of Love and Death (Leo Records LR 302)

Giancarlo Schiaffini

Tuba Libre (Random Acoustics Records RA 025)

Mario Schiano

My Funny Valentine - (Splasc(H) h697) 1999

Tiziano Tononi & The Society of Freely Syncopated Organic Pulses

We Did It, We Did It (Rahsaan and the None) (Splasc(H) Records H811/812/813)

Tiziano Tononi Group

Awake Nu: The Music of Don Cherry (Splasc(H) Records CD H 487/488)
Websites of labels mentioned in this article:
ECM Records: www.ecmrecords.com
Egea Records: www.egearecords.it
Enja Records: www.enjarecords.com
Leo Records: www.leorecords.com
Random Acoustic Records: www.randomacoustics.de
Splasc(H) Records: www.ijm.it/splasc(H)/
Italian jazz online resources:
Italian Instabile Orchestra: www.ijm.it/instabile/
Italian Jazz Musicians Website: www.ijm.it
Italian jazz CDs online sales: www.jazzos.com
All About Jazz's Italian Affiliate: www.allaboutjazz.com/italy/
---
Mitchell Feldman originally published this article in the May 2001 issue of Schwann Inside (publishing its final issue October 2001); he is Italian correspondent for Down Beat magazine and contributes to many other periodicals.
---
C o m m e n t s
No comments yet. You can be the first.
---