Sony's effort to collect and release all of Miles Davis's recording sessions has much in its favor, but grouping them around individual LP titles can be as arbitrary as the company's original release scheme was in the 1960s and '70s. Davis' approach to developing new sounds and reflecting the musical influences that moved him wasn't confined to specific projects. Individual recordings like Bitches Brew, In a Silent Way and Jack Johnson were snapshots of ongoing experiments — released when and how they were as much to generate income for Davis and satisfy contractual demands as for any other reason. The lines between them were blurry, but the way the sessions have been combined in the ongoing series of box sets can make them seem like discreet projects.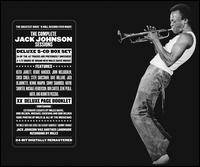 The fact that these Jack Johnson sessions began just 12 days after the final recording gathered in the Complete Bitches Brew Sessions box set is the primary indication that these were part of a continuum. Comprising 11 sessions from February 18 to June 4, 1970, the recordings represented here were the end of a cycle that arguably began with the arrival of bassist Dave Holland and guitarist John McLaughlin from England in September 1968 and February 1969, respectively. During that period, Davis was in the studio — with various combinations of musicians — at least once a month. After June 4, he wouldn't be back in the studio for 20 months. Instead, he would take a handful of compositions on the road, combining them in seamless medleys that confounded listeners until scholars like Italian guitarist Enrico Merlin began to tease them apart in the '90s.
The boxing theme, which is reflected in the titling of several of the compositions that Davis had his musicians work on in the first half of 1970, indicates the trumpeter's passion at the time. Long a fan of Sugar Ray Robinson — whose tenacity Davis credited with helping him kick his heroin habit in the mid-'50s — Davis was working regularly with a trainer at Gleason's Gym in Manhattan. The regimen did wonders for his playing, giving him more power than at any other time in his career, but it also influenced the way he began to hear music. In his autobiography, Davis explained his approach to his music of that time: "I had that boxer's movement in mind, that shuffling movement boxers use. They're almost like dance steps, or like the sound of a train. In fact, it did remind me of being on a train doing 80 miles an hour, how you always hear the same rhythm…. That train image was in my head when I thought about a great boxer like Joe Louis or Jack Johnson."
Also in his head, as it had been over the previous two years, was the music of James Brown, Jimi Hendrix and Sly Stone, and his desire to utilize the bass-heavy dance rhythms of black pop music melded with his hope of mirroring the footwork and snapping punches of his favorite boxers.
The idea of paying homage to Johnson — a black fighter who dominated the heavyweight boxing division in the early 1900s — came from William Cayton, a fixture in the boxing world (and Gleason's Gym) who was putting together a documentary on Johnson's life. Davis' approach to creating a soundtrack for Cayton's film paralleled the way he and producer Teo Macero had put together In A Silent Way and Bitches Brew: letting the tapes roll while the band explored various aspects of the tunes, then editing and splicing in post-production. The fragments included on this five-CD set range from just over two minutes to 16-minute workouts.
Six recordings from February 18 and 27 — the first sessions included — illustrate the formula. The raw material is a simple vamp, played by Holland and drummer Jack DeJohnette, and titled "Willie Nelson" when one of the takes was finally released on the Directions collection in 1981. While the rhythm section is tightly constricted, McLaughlin is given free rein, as he is for most of these sessions. Using amplifier settings that range from abrasive to caustic, the 28-year-old guitarist displays the breadth of his imagination as he tries various approaches and attacks, stretching and contorting his solos, and seldom repeating himself. In response, Davis plays stabbing horn lines, advancing and dodging like the boxers he seeks to emulate. Despite the juiced-up sound of their lead lines, these six takes are clearly experiments in textural variation. Playing through an Echoplex on the first session, the adventurous guitarist Sonny Sharrock works out several instrumental gambits, spraying sputtering electronic sound around and generally adding an otherworldly vibe. Bass clarinetist Bennie Maupin (a holdover from the Bitches Brew sessions) provides dark atmosphere, and steps up only on the third version. The fifth and sixth versions — recorded February 27 — feature just a quintet, with soprano saxophonist Steve Grossman replacing Maupin on reeds, and no keyboardist (the first time Davis hadn't used keyboards in 15 years). On these final takes of "Willie Nelson" the trumpeter sounds more involved in the music, and Holland assumes a somewhat lighter sound. Just under 10 minutes of "Willie Nelson" — taken from three different versions — would find their way to the final Jack Johnson album.
Second on the bill February 27 was "Johnny Bratton," featuring a somewhat bombastic theme and a thrashing rhythm section. On the one complete take of the composition Davis unleashes a furious solo full of long, single notes, but the piece lacks cohesion. Two "inserts" — designed to be cut in during post-production — feature a chugging rhythm, accentuated by wah-wah pedals on McLaughlin's guitar and Holland's bass. Davis expresses his frustration at the end of the first take, telling Macero, "I couldn't play on that one, Teo." Little wonder, then, that "Johnny Bratton" never saw the light of day.
On March 3, the same quintet was back in the studio. McLaughlin, Holland and DeJohnette warmed up with a slow blues that Davis named for the aging boxer Archie Moore. McLaughlin is typically energized, twisting intricate lines around Holland's solid bass work, but DeJohnette's work is spoiled by a faulty bass drum mic.
After five minutes, the musicians' attention shifts to a piece that became known as "Go Ahead John" when it was released on the album Big Fun in 1974 and one of the highlights of the box. The first take included here features some of Davis' best playing of this period, a 10-minute solo of restrained beauty that is positioned starkly against Holland's bass and some gentle wah-wah support from McLaughlin. The trumpeter is clearly in top form in terms of phrasing, tone and imagination, but Macero left this solo on the floor when he spliced together various parts of the session. Another full take of the song follows a slightly different approach, with McLaughlin taking the first solo and Davis answering with a five-minute statement, but all the band members contribute meaningfully. Three other fragments of what would become "Go Ahead John" feature McLaughlin soloing powerfully over a bass drone.
The next session — on March 17 — brought both Maupin and Wayne Shorter on reeds in place of Grossman, and saw Billy Cobham replace DeJohnette. Again, no keyboards were present. Years later, Davis claimed that he had wanted Columbia to release a single of "Duran" — named for the famed Panamanian middleweight with the "hands of stone" — but neither version supports that. Based around Holland's insistent bass pulse, the first take has a number of awkward-sounding intersections, which undercut the power of Davis' short, stinging phrases and a McLaughlin solo that has the trumpeter hissing, "Thatís some raunchy shit, John" at the song's conclusion.
While McLaughlin was impressing Davis, Cobham clearly wasn't making it for the trumpeter. He can be heard instructing the drummer as tape rolls on the second take of "Duran" and Cobham continues to struggle for a full two minutes before settling into the groove. This version is notable for McLaughlin's incredibly distorted tone — making it sound like the speakers of his amp are in tatters — and the interesting textures that Maupin and Shorter create when they intertwine.
Three days later, drummer Lenny White joined Davis, Grossman, McLaughlin and Holland for what sounds like an aborted session. The day's only product is a six-minute take of a composition named for Sugar Ray Robinson. While Davis, McLaughlin and Holland sound assured and assertive, White makes a very slight contribution, while Grossman is, as usual, restricted to a solo role.
Sometime in the following two weeks Davis welcomed the next new musician who would take his music to a different place. At a Stevie Wonder concert in New York the trumpeter had heard a 17-year-old, rake-thin, bassist named Michael Henderson. Backstage after the show, Davis leaned in to Wonder's ear and growled, "I'm stealing your bass player." Within a month, Henderson was living at Davis' townhouse on the Upper West Side, and on April 7 he joined Herbie Hancock, Grossman, McLaughlin and Cobham for the session that would produce the bulk of the Jack Johnson LP. While the prodigiously talented Holland had proven willing to hold down a simple ostinato or even a single-note drone in service of Davis' vision, Henderson had internalized the rhythms of Motown's famous Funk Brothers and had a clean, singing tone on Fender bass. As Henderson later recalled, Davis wanted him to hold down the beat and nothing more. "If you learn any of (my) old shit, you're fired," the trumpeter warned him.
McLaughlin and Cobham recall that the infectious shuffle that became "Right Off" — the first side of the album — occurred spontaneously in the studio, but the fact that the master is labeled "Take 10" and Davis' opening instructions to McLaughlin seem to belie their story. Whatever the truth is, the 11-minute segment is one of the most remarkable in Davis' career. Entering immediately after a potentially disastrous musical collision between McLaughlin and Henderson, he uncoils a solo that encapsulates everything a listener needs to understand the scope of his genius as an instrumentalist. For the first three minutes, he ranges widely, varying his attack and timing against the static rhythm. At about the five-minute mark, he engages McLaughlin in a spirited call-and-response that shows just how closely he's been listening to the guitarist in the preceding weeks. Then, at about 6:50, he drops out, only to return about 20 seconds later in a much softer mode and with a rhythmic approach that has him riding Cobham and Henderson like a surfer on a breaking wave.
A second take picks up where the first leaves off, and introduces Hancock on a savagely distorted Farfisa organ. In the particularly rich lore that surrounds these sessions the story is that Hancock had stopped by to check up on Davis' band on his way home from the grocery store. Ever the opportunist, the trumpeter ordered his longtime pianist to sit down at the electric keyboard and get involved. On two further, shorter, takes — which Macero sampled judiciously for the final version of "Right Off" — Hancock varies the tone of the Farfisa, while the rest of the band seems to be searching for a suitable conclusion. Eventually, at 7:44 of the final take, McLaughlin falls into a compelling riff that Davis would use over and over in the following months' concerts.
The second half of Jack Johnson — "Yesternow" — is a moody, atmospheric exploration that Macero would intercut liberally with various parts of "Willie Nelson." The first recorded effort — Take 16 — is the kind of thing that normally never makes it out of the studio. Over Henderson's bass vamp, McLaughlin examines the possibilities of the song, but his effects pedal introduces static and hiss into the recording, and Davis can be heard coughing off-mic. Hancock, Grossman and Davis all solo, but the take is of little consequence.
For the final version, Macero would select just over 12 minutes of the 16-minute master take — excising Grossman's solo and some of McLaughlin's transition to his own statement. It is a masterful exercise in building tension.
By definition, the Jack Johnson sessions really end there, although the box is barely half over. The transition is marked by the arrival of 25-year-old pianist Keith Jarrett on May 19. Already something of an enfant terrible and a veteran of several years with saxophonist Charles Lloyd's popular quintet, Jarrett immediately added a new dimension to Davis' music. A second new dimension — one that many fans never forgave — was the electronic treatment of Davis' trumpet. On two takes of "Honky Tonk," which features an octet filled out by Hancock and percussionist Airto Moreira, the effect broadens Davis' tone and gives it more of an edge. The second version, which Macero never used, ends with a particularly woolly McLaughlin solo — appropriate, since the guitarist's unrestricted role within Davis' units was fast coming to a close. Jarrett can be heard pushing Davis into new territory, and the trumpeter sounds eager to take the new path.
Disc Four begins with one final boxing-related piece — "Ali" — but bassist Gene Perla seems heavy handed compared to either Holland or Henderson, and the various component parts of the composition don't hang together as well as anything that Davis and Macero saw fit to use.
By May 21, backed by a tight, bass-less quartet of McLaughlin, Jarrett, DeJohnette and Moreira, Davis was clearly moving on. "Konda" — most of which surfaced on Directions in 1981 — approaches the kind of controlled chaos that would dominate Davis' On The Corner album, with Jarrett pushing his detested Fender Rhodes piano to its limits.
On May 27 and June 3, Davis invited Moreira's fellow Brazilian Hermeto Pascoal to the studio, and the exploration of several of the multi-instrumentalist's exotic melodies changes the mood considerably. The takes of "Little High People" on June 3 are of particular interest for the return of Ron Carter on bass — gone from Davis' stable of regulars since Holland's arrival in 1968 — the combination of Corea, Jarrett and Hancock on keyboards (consider that firepower for just a moment) and the introduction of wah-wah pedal to Davis' trumpet. The ethereal and wistful "Nem Um Talvez" (also titled "Selim" in an alternative form) would form part of Davis' LP Live-Evil in 1971, as would one take of Pascoal's "Little Church," recorded with Hancock, Holland and the composer on June 4.
The other product of June 4 — the two-part "The Mask," again featuring a triple-keyboard lineup, Holland, McLaughlin, Grossman, DeJohnette and Moreira — is less restrained by traditional tonality and time than anything Davis had previously recorded in the studio, though it is close to the kind of freewheeling improvisation that his band had been exploring in concerts that spring at Bill Graham's rock venues in New York and San Francisco. Above all, "The Mask" shows where Corea and Holland were headed: into the orbit of reed player Anthony Braxton and drummer Barry Altschul, with whom they would form the adventurous band Circle.
Closing out the five discs are the master versions of "Right Off" and "Yesternow," and if their combined 53 minutes of raging guitar, diamond-hard trumpet and infectious rhythms didn't quite amount to Davis' claim of "the greatest rock 'n' roll record ever made," they certainly show the range and fire that the trumpeter could bring out in the studio.
In the end, The Complete Jack Johnson Sessions is all about possibilities — sonic and otherwise — and the willingness of Davis to push his musicians, and himself, to discover new approaches to creating music and finding new worlds that lay between the musics of America — both white and black — Africa and Brazil.
---
C o m m e n t s
No comments yet. You can be the first.
---