The Ukrainian jazz festival movement is spinning on. A sampling from 2005 includes DoJazz in Donetsk on May 11-12, Jazz on Dnipro in Dnipropetrivsk, Jazz Carnival in Odessa in September, and also a December festival in Vinnitsa. In July, the festival in Bukovel, in the Ivano-Frankivsk region, will open, and in August the third "Koktebel" will take place in Crimea. In Kiev alone there are three festival projects: Dniprogastrol, a July festival in memory of Vladimir Symonenko on the summer stage of Mariinskiy Park and Unity in March.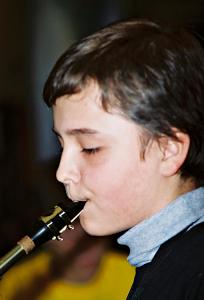 The latter is typical for Ukraine. In 2002, when Ukrainian culture (unfortunately it did not change) met tough times, this far-from-commercially-aimed project was inspired by Sergiy Grabar who named himself as a "professional listener". Time goes on and the festival still lacks major funding, but it survives with the help of its founder and some friends. On March 18-19, at the Operetta Theatre, the fourth edition of Unity took place, gathering under its flags a large number of producers and consumers of Ukrainian jazz. Paradoxically, even with absence of well-known foreign artists, it stimulates art and professional growth of national jazzmen, and the prestige of participation is growing up. Even so, one of the main functions — a place for meeting and exchanging ideas with more experienced comrades has not yet been realized in full. You must agree that it does not increase the competition goal of the festival: the external fresh breathe is always helpful.
As usual, the orchestra of the Little Band Academy, under supervision of Viktor and Iryna Basyuk, opened the festival. Its participants are 13-16 years old and sound highly professional playing classical jazz. One of the band's highlights this year was a version of "Anthropology", which generated a lot of excitement among the audience. The orchestra plays often in Kiev, has been nominated for awards at various international festivals and competitions, but still lacks financial support.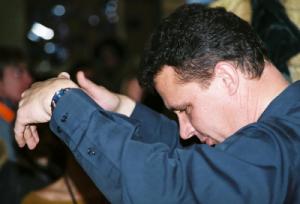 By contrast, Myron Bloshchychak from Lviv touched my ancient roots deep inside, stirring memories of Ukraine's simple and dear traditional music. In his performance was all that purity, simple and brightness that separates real from false, truth from lie. He explained his approach after his performance.
Bloshchychak: I feel myself as an ethnic musician and play the folklore improvisations on ancient instruments. Each of my instruments is my child, very expensive by its sound richness, possibilities, even they are not known to the professors of conservatories and came out of the peoples' "red book". I want them enrich the soul of audience: this is the clay zozulya (cuckoo), this — an ancient tube without any hole, that sings as wind in the mountains. Its name is "grandfather's floyara" — two-metres long "cornice" playing by overtones of trembita or other ancient instruments, known in foreign countries. This is the two-voiced double "djolomyga", this is the simple drymba, this is myself made "windphone". And even "bottlephone" — plastic bottle not fully filled with water, where I breathe and use a hand to regulate the sound. You can play anything even on the top of the plastic bottle. National instruments ancient people played them in order to stand above the routine, sins and fly with their soul to the sky to that pure what everyone has in his soul.
Kizlova: Our authentic music has the tough times now. How can we support it?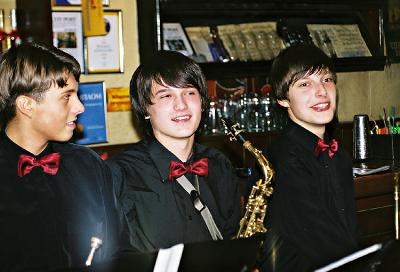 Bloshchychak: It must be supported on the government level. Sometimes it seems that except pop music we do not have anything else. If we listen to radio or TV then we have an impression that there is no classic music, no jazz, no folk, and only pop. In real it should take its own modest third place.
Kizlova: How can we increase the level of audience?
Blshchychak: At least we need to put good music on radio, TV, stage. If a person listens to this music like you did today and even cry then he says "I want to go this concert, instead of pop music". I studied Ukrainian ancient instruments play in Lviv musical college and conservatory and want to study my subject the students, but it has to be initiated by ministry starting at schools. It's good that between people lots of real was saved, thanks to God. We have high-class professionals in the countryside. For example there was a free concert of folk-group Zbyranka at Lviv's conservatory for students and teachers, because nobody recorded it, nor radio, neither TV, so they played and that's all. This is the condition of our culture. I would like to wish that our minister of culture, Oksana Bylozyr, and the appropriate people on regional level will solve this hard problem in future.
The first day ended with a performance by Moscow keyboardist Vyacheslav Gorskiy's trio. On drums was his constant partner Ruslan Kapitonov, and the young, talented Alex Zavolokin was on bass guitar. Gorskiy, who played for 10 years with Alexey Kozlov in the jazz-rock group Arsenal, is still one of the most attractive performers of poly-stylistic improvisational music.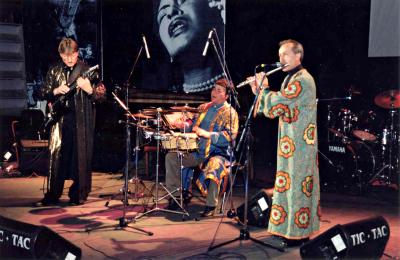 Kizlova: What's the future for Russian jazz-rock?
Gorskiy: I think that jazz-rock exists in series of bands: Chicago, Blood, Sweat and Tears, those who made up the genre. Now we play as the combination of different styles, directions, epochs. Classic, ethnics, eastern elements and improvisations combine here. This is poly-stylistics, that is very actual now but is little eclectic. Pure jazz-rock now is something orthodox, but it almost disappeared. Now it isn't interesting to me; we want to move together with music development.
Kizlova: What is the concept of your new album Exotic Life?
Gorskiy: Stylistically it is what is interesting to me. We have a thing with a Scottish bagpipe (played by Vladymir Lazerson), with members of the Ukrainian vocal group ManSound. We have a ballad in the style of Count Basic, funk reggae. We wanted the album to be merry and colorful.
Kizlova: Nowadays, listening to you I thought that music makes the person young, the same age as the music played by artist.
Gorskiy: I agree. We get old only from outside, and in soul we all stay as young people.
The second day of the festival was opened by legendary Er. J. Orchestra — eight bright individuals who played at their best. The music of leader Alex Aleksandrov is bright, kind and life-loving.
Kizlova: Alex, please name your stylistic orientation?
Aleksandrov: Impressionism, romantism, "almostjazzity", ethnical music, Slavic, East. Today we did not hear the songs with medieval European notes, allusions, because we do not copy anyone.
Kizlova: You have a great feeling of shape, very thin and exact. How do you reach it?
Aleksandrov: I move from the literal orients. I push away from feeling of the "golden cut". Lots of things depend on the musicians, their feelings and understanding the goal, because we make up the orchestrations in the process of working with the play.
The second performer was Volodymir Solyanyk — piano improvisator, spontaneous musician and dreamer. He was in great shape. He played for 25 minutes and as musicians joke, he overplayed himself.
Kizlova: Volodymir, tell me please about your favorites in music and piano compositions?
Solianyk: I listen to music of different styles, it has to be good. I love Bach a lot and in Leypcig I played on his organ. I listen to Vivaldi, Shostakowich. In jazz I like Polish pianist Adam Makowicz who impressed me a lot. To my mind the best are Oscar Peterson, Chick Corea, Herbie Hancock, Michel Petrucciani.
Kizlova: What do you like better — solo or ensemble performance? And how do you feel about playing with partner?
Solianyk: In different ways. But solo gives me much more freedom and when you play you do not know what will happen later. To come on stage is very responsible: you need to impress the audience with your performance and to impress with your energy. I love to play in duet, I think it is the most difficult among the existing ensembles. My favorite colleague is the saxophone player from England — George Haslam. We work together for 10 years and ended a tour in Czech and Slovakia. Also I played in two pianos with Chick Corea in one of the German's clubs. It puts my level higher and is very difficult and responsible.
Kizlova: You have taught for many years at Kievan Gliyer musical college. What values do you hope to impart on your students?
Solianyk: By informal law — it is the feeling of responsibility, friendship, because only we can support each other. If you do not try to become a better artist then there is no reason for studying. Some teachers "put" their students in "frames" which they need to break in the future. Lots of people want to play jazz. I even give some master class at Baltic countries, and people from whole Europe to study to play jazz. We need to study jazz harmony, history of music, jazz styles. But because we do not have the only one method the work goes very slow. The teachers make not too much money; that's why students come to them for private lessons.
After Solyanik, the Moscowian trio Second Appearance performed - their second time at Unity. They play original music, which is stylistically on the edge of improvisation and academic music and uses the elements of the avant-garde.
The last to play was guitar master Enver Izmaylov. His repertoire consists of remarkably expressive time-tested compositions that never fail to conquer the listeners. As usual, he was in fine shape, friendly, and outspoken.
Finally came the Ukraine-Brazilian Ensemble, with guest soloist Andrey Pinto dos Santos who was invited to Kyiv from Prague, where he now works.
Ukrainian jazz is evolving, growing wiser and more professional, leaning more to the philharmonic side, ceasing to be a purely bar and club entertainment (although this author finds nothing wrong with that). Festivals such as Unity play an important role in the process.
---
C o m m e n t s
Jazz festival
1 of 1
eduardocaldarelli.ec@mail.com

Warning: date(): It is not safe to rely on the system's timezone settings. You are *required* to use the date.timezone setting or the date_default_timezone_set() function. In case you used any of those methods and you are still getting this warning, you most likely misspelled the timezone identifier. We selected the timezone 'UTC' for now, but please set date.timezone to select your timezone. in /web/jh/public_html/com/comnlib.php on line 221
May 14, 13

I love the idea of make a festival,in Ukraine I am jazz pianist and composer.Contact me I live in USA.and i wanna be a part of yours.
---