On Saturday, March 24, 2001, over 150 musicians gathered to pay homage to Miles Davis in a 13-hour free concert sponsored by Symphony Space on Manhattan's Upper West Side. Beginning at noon and lasting an hour past midnight, the marathon event presented 29 ensembles, including many well-known players.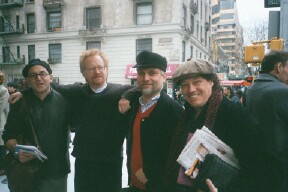 from left: Ted Panken, James Hale, Virgil Mihaiu, Howard Mandel -- outside Wall-to-Wall Miles.
Photo by Greg Masters
For fans of Miles' music, the event was an opportunity to immerse oneself in a retrospective, to hear recreations and interpretations of music from nearly every phase of Miles' 50-year recording career. For the uninitiated who came to the theater attracted by the hoopla or who tuned in to radio station WBGO (the entire event was broadcast live), it was a chance to sample the offerings Miles conjured and left behind.
Among the festival's highlights: Bobby Previte opened the day with the incantory melange of Bitches Brew, filling the hall with that electric molten stream of sound. I've heard various incarnations of Previte's Miles-clone bands tighter on other occasions, but the afternoon's performance got things started with color and drama . The performance also reminded me of how important the drumming was on the original (Jack deJohnette, Lenny White, Billy Cobham), driving the sound, able to lay a rock pulse under the independent melody and vamp activity, and how Airto's Brazilian percussion added such a fresh element to American music, alerting us to the delights available for appropriation from other cultures.
The Terrell Stafford Quartet dropped us back a few decades into cooler times, recreating the romantic late '40s sound. Stafford's playing was crisp and masterful, confidant as it soared on open horn and, with mute, reached inside.
Former Jazz Messenger Bobby Watson added a funk groove to the second quartet's sound that made the tunes more approachable, but made me miss the dreamy introspection of the originals. Tim Hagan brought a testosterone-charged urgency to Wayne Shorter's "Paraphernalia."
Sexmob with Bill Frisell and DJ Logic brought out the loveliness of "Selim" from Live Evil. Frisell's short solo recaptured McLaughlin's control, teasing the electric current, rationing out notes.
The Campbell Brothers were one of the odder ensembles of the day -- a pedal steel, lap steel and guitar -- but received one of the event's most enthusiastic responses with their southern, almost Allman Brothers groove to "Kind of Blue."
The Russel Gunn Group's soulful version of "Time after Time" illustrated Miles' good taste in selecting modern pop songs.
My vote for best soloing of the day goes to Ingrid Jensen (trumpet) who with her group performed show tunes from The Plugged Nickel engagement. Her heartfelt and restrained playing evoked Miles' own playing -- daring to hold back to leave some suspense, to slow time down to demand of the listener a more intense connection which invites participation with the soloist's introspective investigation.
For me, one of the day's greatest moments was being in a roomful of listeners all appreciating Miles' dirge memorial to Duke Ellington, "He Loved Him Madly," from Get Up with It as recreated with quiet power by Frank London (trumpet) & Invocations (Anthony Coleman, harmonium and Ken Filano, bass).
Wallace Roney did a bravura job performing Miles' part with an ensemble led by Maria Schneider in a recreation of Sketches of Spain. The performance recaptured the beautiful tone-painting blends of Gil Evans' arrangements while pointing out the challenges Miles conquered with the soloing.
The day-long immersion left this listener wondering how one can assess the achievement of Miles' music, the soundtrack for many of our lives. Presented for our delight was the attainment of so many sounds, sounds that were rich and complicated, that looked inward to express a range of feelings -- not just the entertaining, feel-good presentation, but aural information that could describe the darkest recesses of the psyche or soar to the highest celebrations of spirit.
The music was most often terrific, suggesting the original, yet no ensemble was capable of catching Miles' own versions -- that feeling of breathless suspension he so often created or that sense of time stopped while the musicians explored. No drummer playing second quartet music could come near Tony Williams' propulsive tidal foundation.
The curator of the event, Bill Bragin, did a masterful job of assembling a who's who of jazz and new music. The Symphony Space people must be profusely thanked for the great gift they gave, the 31st in a series of yearly free concerts (among past marathons were days devoted to John Cage, Bach, Ellington, Kurt Weill and Frank Loesser).
Pulling off the event -- with its completely new stage set-ups every 20 minutes or so -- was a stage manager's biggest challenge yet all went smoothly.
Two complaints: although the event was billed as free, MCs cajoled the crowd every hour or so to "give what you can" and ushers passed donation buckets through the aisles. They also badgered the audience to give up their seats after a few hours' attendance to make room for others waiting on line outside in the chill. It's a small theater -- 1,000 or so seats -- perfect sound- and sightwise for an event like this, yet too small to contain the entirety of the crowd wishing to participate -- induced by an ad campaign and much pre-event publicity. But the intimacy of the room brought the musicians and crowd close.
Sitting and taking breaks with JJA colleagues -- Howard Mandel (Manhattan), James Hale (Ottawa), Michelle Mercer (Brooklyn) and Virgil Mihaiu (Romania), as well as other jazz journalists and photographers made the festival even more festive.
On leaving, a group of us ran into Vernon Reid who was only to happy to share his impressions of the event. He'd been on stage just a few minutes before, leading an ensemble through a version of the Jack Johnson material that loosened the music up a bit, but here on the curbside his manner of expounding on what we'd all just shared was fired with the propulsive bounce of that LP, an effusive outpouring of determination shaped into a fusillade of positive impressions. At one point he compared the range of Miles' output to that of Picasso's. There was no argument from the journalists gathered around him.