Romanian guitarist Tony Kuhn had seen many things in his 50 years, including communist domination, megalomanical dictatorship, revolution and poverty on a level few could ever understand. But never had he witnessed anything quite like what he saw from his vantage point atop a tall, grassy hill in the remote village of Jupanesti, a tiny, unmapped enclave, approximately two hours hard drive from the western Romanian city of Timisoara.
AMERICAN JAZZ ACADEMIC TOM SMITH CONDUCTING THE STUDENTS' BIG BAND UNDER THE SUN OF JUPANESTI/ROMANIA.
Peering down into a valley that had changed little over time, he saw the makings of an army, yet unlike any military aggregation he had seen. Situated on a makeshift concrete stage was the American Fulbright Professor Tom Smith, conducting a skilled big band, with his Fulbright colleague Rick Condit leading the saxophones. Twenty meters away, vibraphonist Eldad Tarmu rehearsed an advanced ethno-jazz combo featuring two violinists, and a crack rhythm section led by the Romanian bassist Artur Balogh. Over in the distance was American bassist Brian Torff, accompanied by French pianist Florence Melnotte coordinating a "hands on" seminar about the life of Mary Lou Williams, while University of Alabama guitarist and dean of music Tom Wolfe held master classes under a wide shade tree.
It was not long before Kuhn had been joined on that hilltop by a number of peasant farmers with animals in tow, as small children made their way down to the music, on their way back from a funeral ceremony held in the 18th-century wooden church nearby. They were carrying religious icons, which made the scene look like a sequence from one of Tarkovsky's surrealist films. Simultaneously, the village mayor raised both the American and the Romanian flags, as still more villagers applauded.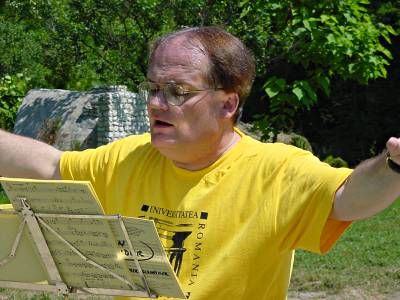 Then quite suddenly Kuhn was swept up in a wave of emotion, symbolic of witnessing Romania's first-ever jazz music camp. "For a moment I could not believe what I was seeing," he said. "We had waited all of our lives, and now it was really here.
"It was like science fiction."
The first annual Tibiscus University Romanian Jazz Seminar, with its rustic trappings and western sensibilities was the talk of the Romanian jazz community, and one of the most successful examples of Romanian international artistic cooperation staged in recent years. The brainchild of Romanian bassist Johnny Bota and Tom Smith, the seminar featured the best and brightest jazz talent from across the country, including but not limited to Timisoara, Bucharest, Iasi and Cluj. Its purpose was to train both teachers and students in western jazz education practices, and to bring order and discipline to (what Smith, after two longer Fulbright stints in Bucharest, extrapolates as) Romania's perenially disorganized and corruptible jazz scene. Principally, it was organized to prepare Romanians for the October 2005 implementation of a long overdue faculty of jazz, bearing the name of Richard Oschanitzky (1939-79), the creator of a genuinely synthesis between jazz and Romania's musical traditions. This vision pushed forward by Bota, and made tangible with the help of Smith and others, is about to become reality as a part of the Tibiscus private university functioning in Oschanitzky's native city of Timisoara. At an introductory session held in this elegant Central-European-styled city, Tom Smith and Rick Condit -- received by the local intellectual community as representatives of the fatherland of jazz -- pointed out that the brain-drain affecting Romania's elites since the country's liberation in December 1989 ought to be put an end to.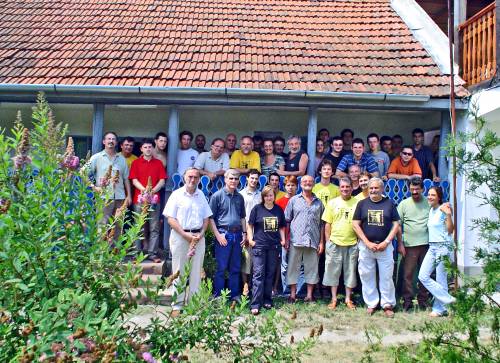 Smith considers that young musicians should become aware of the opportunities they enjoy in their home country. Otherwise, after Romania's integration into the European Union, their places will be occupied by colleagues from other parts of the world. Staged over six days, and sponsored in part by the Augusta Foundation, the Fulbright Commission and the International Association for Jazz Education, the Tibiscus Jazz Seminar offered an educational variety never seen in Romania, with a disciplined agenda that would be its hallmark.
"Tom and I wanted something where there would be no distractions for the students," said Bota. "Romanian jazz musicians are too easily distracted. In Jupanesti, there were no TV-sets, computers or telephones. The shape of the surrounding Carpathian Mountains even kept the cell phones from working. Here it was about jazz and nothing but jazz."
The seminar certainly delivered on that promise, with educational historical and theoretical lectures in the mornings, combo sessions and big band repetitions before lunch, with still more repetitions and master classes staged in the afternoon hours. After dinner, the American instructors staged organized faculty jam sessions, where they were joined by professional Romanian performers like pianist Ion Baciu, saxophonists Garbis Dedeian and Liviu Butoi, bassists Johnny Bota and Pedro Negrescu, drummers Dinu Simon and Luq Dolga. As those sessions dissipated, new performances evolved from the Timisoara student contingent, an enthusiastic cadre who took up residence in makeshift tents situated by an adjoining creek bed. Several of these boys were no older than 13 years old. Some had lied to their caregivers about their whereabouts, or had simply run away from home. "What were we to tell our mothers: that we were playing jazz in the hills of Banat with Americans? No one would have believed us, and then we would have received some spanking for sure" one of them said.
In organizing this event, Bota and Smith were helped in no small way by faculty members themselves, who either donated their services, or accepted token (but appreciated) IAJE stipends, while the Fulbright Commission and participating universities subsidized airfares.
"Tom essentially hypnotized American musicians into coming," said Bota.
"Still Johnny's participation in making both the seminar and the jazz school a reality was the key ingredient," countered Smith. "It is one thing for me to have an idea, but Johnny's follow through was absolutely amazing. Within a week, he had this place painted and a new stage built from the ground up. What he did was a miracle. I have no doubt that all of his dreams will come true. He wants this jazz school for all of the right reasons."
If Bota was the organizational brains behind the seminar, the programmer was certainly Smith, who actualized all the classes and imposed rigid adherence to schedules. The American jazz educator/trombonist/big band leader had livened up the Bucharest scene at the turn of the century, but that experience led him to the sad (and unjust) conclusion that the entire country might be contaminated by its capital city's Balkanic, disorderly lifestyle. Out in the provinces, where about 21 million of the country's almost 23 million inhabitants live, he was surprised to find out that Romanians are perfectly able to follow the concepts of western discipline, as all participants were required to attend the more than 20 events without exception. A humorous sidebar was Smith's antics in waking up the students for breakfast, some of whom had either performed or listened to jazz until the small hours of the morning. "What we saw this week was the American way of being successful," affirmed long time Romanian jazz programmer Florian Lungu. "It is no secret to us how Americans make their music education successful. But we had never seen it before with our own eyes."
Johnny Bota's initiatives in securing both the moral and financial support of the Augusta Foundation were nothing short of ingenious. The foundation's head, Mrs. Augusta Anca, is also the Rector at Tibiscus, a gregarious and enthusiastic woman who was present at many of the nightly events, and helped stage popular evening dinners, including a bonfire and a barbecue of mititei(a beef, lamb and pork concoction, similar to the Armenian shashlyk) on the final evening. Campers were also joined in an impromptu jam session by village musicians dressed in native folk costumes. Final performances were staged at Tibiscus, attended by two national television networks, as enthusiastic audiences cheered no less than four student/faculty combos and an impressive student big band.
The most obvious presence at the event was Bota, who either performed, emceed or stood next to a post grinning and laughing, as his once bizarre dream took true and resolute form. Opposite Bota stood Tom Smith, whose own attempts to establish an American jazz school had led to his greatest disapointment a decade before. "It's funny how life turns out," he concluded.
Science fiction indeed.
---
C o m m e n t s
Romania Jazz
1 of 1
Matt Jackson

Warning: date(): It is not safe to rely on the system's timezone settings. You are *required* to use the date.timezone setting or the date_default_timezone_set() function. In case you used any of those methods and you are still getting this warning, you most likely misspelled the timezone identifier. We selected the timezone 'UTC' for now, but please set date.timezone to select your timezone. in /web/jh/public_html/com/comnlib.php on line 221
January 17, 06

Romania is blessed with a handful of U.S. jazz artists led by Tom Smith, who are as dedicated as they come. I remember Tom years ago when he brought nonprofit jazz to poor Appalachian communities practically by himself. He's one of those people who because he has opinions, never gets his due credit and only looks for it to push his altruistic causes. It's too bad that there is not a real financial niche for the kinds of things he does, Romanian jazz being but one of many contributions.
---