The 21st edition of the international jazz festival, Jazz em Agosto, was yet another carefully engineered program with the aim of casting a look into the future. In that respect, the public was able to contemplate a vast canopy of esthetic proposals that had the western coast of Canada as the main tonic note. This was a coherent option, considering that the festival has previously focused on particular aspects of improvised music through its relationship with human geography. The notorious year of 2000 was prevalently dedicated to the US, while 2002 was predominantly centered on the European vanguard with Barry Guy in the eye of the hurricane. After a second flirt with the European scene last year, the Gulbenkian Foundation has once again focused on the American continent. This time round, Vancouver was justly positioned in the limelight due to the variety of projects it has to offer and also due to the range of generations that participate in its musical exploration.
The general impression that remains is one of extreme eclecticism, where original jazz forms have given way to a sense of spaciousness that blends both the American and the European traditions with a sensibility that is undoubtedly caressed by oriental winds blowing over the Pacific Ocean. In this respect, the NOW Orchestra paid as much homage to European contemporary music as to the heritage left by Duke Ellington, and the Peggy Lee Band was infused with a folkloric lyricism that one easily associates with the vast Canadian landscape. Paul Cram took this concept the furthest, juxtaposing an endless potpourri of styles. His end result was in some respects questionable, but his attitude blended with the predominant Canadian approach to contemporary jazz music and improvisation. This 'trans-regionalism' is a good argument against those who insist on trying to freeze the jazz genre in time and place, in an attempt as futile as trying to crystallize a floating bubble of soap. It will simply pop in their face!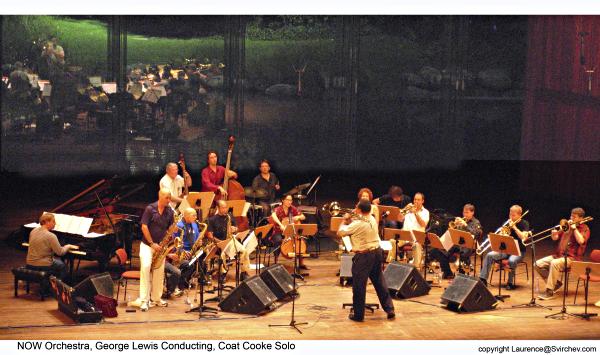 This year's festival also approached new technologies as a foresight into the future of artistic expression. The use of digital machines contributed unevenly to the performances, creating confusion on occasions, and at other times working more as dispensable gadgets rather than an intrinsic part of the esthetic discourse. But that will not be the last word on the matter. For example, the turntable duo concert proved that there is an infinitely vast universe of sound out there waiting to be explored, be it with computers, vacuum cleaners or squeaking doors (as approached by Pierre Henri).
The first concert was presented by the NOW Orchestra, directed by both George Lewis and Coat Cooke. It opened magnificently with a well-organized palette of great musicians. The orchestra also displayed a diverse body of work, blending the contemporary avant-garde with some more traditional overtones. It had at all moments a clear delivery of sound, even though the passages where at times dense and complex. Both directors did a great job, but the highlight was the presence of Lewis, who directed this large ensemble with gracious ease and precision. His magnificent solos were only matched by Peggy Lees' round and warm tone, which was justly highlighted throughout the concert. Paul Plimley also contributed great support in the undercurrent of the pieces, adding occasional crisp sounding solos.
As a follow-up to the first night, the Peggy Lee Band played the first outdoor event. The group played a sophisticated and well-arranged original repertoire. The material was interpreted in an excessively formal manner when it truly deserved a greater amount of risk-taking. Once again, Lee displayed her beautiful tone and flawless technique, but it unfortunately contrasted with some more commonplace performances displayed by other members of the band. Regardless of some minor flaws the public was offered a promising young group that, given time, will probably mature into a more exciting project.
The Thing was one of the festival's highlights with a forceful trio performance, where each musician challenged the physical limits of his instrument. They interpreted an eclectic repertoire that touched on such diverse material as compositions by P. J. Harvey, Norman Howard, and the Ayler brothers, just to mention a few. On a couple of occasions, they switched to a binary rock beat reminiscent of Brötzmanns' neo rock 'n' roll explosions on his Machine Gun album. Nevertheless, The Thing sounded much more like a post-punk affair, where Mats Gustafsson exhibited his tremendous technique with characteristic conviction, oscillating between the spiritual and an uproarious pathos that is so characteristic of his playing. Paal Nilssen-Love displayed a clear attack, playing energized drum rolls all over his set in a very distant invocation of Elvin Jones. Some "kick-ass" drumming, to use his words. Although there are still some rough edges in his playing, one can only foresee a great drummer. The positioning of bassist Ingebrigt Haker Flaten between both titans worked very well and the bass player took maximum advantage of this setting, playing with conviction, sensitivity and unthinkable energy. It was a great concert that would have certainly made Ruby, of Ruby's BBQ, in Austin Texas, very proud!*
François Houle took his chances with computer-generated sound processing and the pay-off was a chaotic affair that did more to confuse the performance than clarify it. One word of consolation is that he did take risks and one should think that he is now the more enlightened. Regardless of this mishap, the audience was complemented with some good playing in the very last minutes of his performance.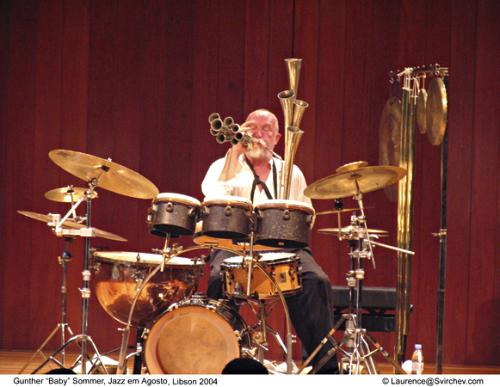 Not having been able to attend the Gunter (Baby) Sommer performance, I will focus on the outstanding concert given by the Otomo Yoshihide New Jazz Quintet featuring Mats Gustafsson. First of all, one should highlight the conceptual nature of Otomo's approach to the modern jazz standards. Nothing in the concert happened by accident, which does not mean that this outstanding group of musicians did not take risks all the way through. They certainly did! The point is that there was always a dramatic backdrop that set the mood and pattern for the development of the given material. Also, that scenic undercurrent was intrinsically embedded in a tradition that is unquestionably oriental. This aspect made the presence of Mats Gustafsson all the more exiting and relevant, contributing to the importance of the event. Also unquestionable was the quality of the musicianship of each individual and their sense of positioning within the band. Bassist Hiroaki Mizutani played a magnificent role in supporting the general sound of the ensemble, while soprano saxophonist Kenta Tsugami was devastating. After an inflamed Gustafsson solo, Tsugami had the wisdom to begin building his solo starting with a fragment of silence. Then, slowly but persistently, began to weave a sonorous web starting with a whisper and eventually ending as a roar; a labyrinth of crystal clear musical ideas and forms, delivered at breath-taking speed. Yoshihide, as mastermind and visionary of the project, used distortion in a surprisingly personal way. He prefers to blend into general sound of the band rather than to appear on top as outright soloist, which makes him that much more interesting to listen to. The rendition of Mingus' "Orange Was the Color of her Dress" came as a wonderful surprise especially as the introduction engendered by the group belonged to a distant musical galaxy, creating the kind of dramatic tension previously mentioned, only to be released with the initial notes of the theme itself. The public was elated to the point that no skeptic dared to confess any dislike regarding this memorable event.
Arve Henriksens' solo performance was perhaps one of the most irregular events. In most cases, the trumpet player used the available technology to his advantage, creating digital textures with his horn in real time and then coherently playing on top of them. What was not so convincing was his vocal meanderings and his interaction with the public requesting that they also sing along, an unnecessary gimmick for such a good musician.
The Martin Tétreault/Otomo Yoshihide turntable duet transformed an amalgam of junk paraphernalia into a coherent and fascinating galaxy of sound. This was not a conventional DJ affair and the turntables instead of playing records transformed themselves into simple generators of circular motion upon which the artists would imprint an infinite variety of sound-generating textures. Each extended piece had both an individual character and a formal coherence possible through a complementary game of questions and answers. In this way both turntablists subtly stimulated each other and consequently provoked a chain of events than kept the public suspended in permanent awe.
The Regenorchester XI confirmed that eclecticism is a contemporary trend regardless of what side of the globe you are on: Sonic Youth, Samba, Noise, Punk — anything goes. Here the tonic was set upon a 'post-double-guitar-Miles-aesthetics'. But the concoction was not altogether convincing. Franz Hautzinger, gifted with a beautiful tone, became predictable and his breath-like microphone stimulations unnecessary. The transformation of Miles' "Back Seat Betty" into the introduction of an altogether different song left the sensation that a common denominator was missing in the band's overall concept. Neither did Luc Ex play up to his previous performance, with 4 Walls, in last year's festival. In spite of these drawbacks, the concert was an entertaining event with a relaxed and festive appeal.
Regardless of the use of electronics and digital sampling, Nuno Ferreira and Jesus Santandreu played a more conventionally oriented performance. But apart from being closer to the mainstream, they occasionally managed to use the gadgetry in an integrated and convincing manner. Nevertheless, they performed best in the predominantly acoustic setting, playing competently and with feeling. Their second theme was particularly beautiful, with an aura vaguely reminiscent of Billy Bauer and Lee Konitz at their best. Their third piece, played over a sampled bass line with a slightly '70s feeling, had Nuno Ferreira blending well with the rhythmic aspects of the loop, as the saxophone reinforced the harmonic structure of the piece. The duo was outstanding on their sixth tune. A smart use of space and polyrhythmic layering over a slightly rockish sample worked well. The ending that included a tutti (machine included) functioned as a smart ending to the performance.
Paul Plimley and Lisle Ellis belong to that category of musicians that are comfortable with any repertoire because they appropriate it to their own 'devious' ends. In this respect, it is irrelevant whether the chosen material is Jimi Hendrix or Ornette Coleman. Piano and bass will rip it all apart and assemble it back together with a totally different character. But the new 'creature' comes alive not as some re-animated monster. On the contrary, the music now breathes in an articulate manner, as free as the unconscious mind, but always imbued with an exquisite sense of beauty. Both men played with an amazing amount of energy only subdued by their vast experience and clear sense of balance.
As mentioned previously, the Paul Cram Orchestra played an eclectic original repertoire, meticulously written and arranged, where a vast spectrum of styles and tendencies are blended. As in the Now Orchestra, this large ensemble was well organized and directed. But contrary to the latter project, the compositions where perhaps over ambitious, becoming somewhat disperse and overreaching. The quality of the musicians was unquestionable (with good solos throughout), but space for ensemble or solo improvisation was sparse. With some less writing perhaps one would appreciate better the musical 'bouquet' that lies in the essence of this group.
In summary, the 21st edition of Jazz em Agosto was a box of surprises where eclecticism reigned supreme, with some disparities but an overall high level of performance. One now wonders what new human co-ordinates the future will bring us. Perhaps that breeze blowing over the Pacific will lead us in the right direction. Who knows?
---
*Note: The members of the group came all dressed in black T-shirts advertising Ruby's BBQ, an Austin, Texas restaurant. At the end of the concert the trio, turning their backs on the audience, had Mats Gustafsson announce that they had come directly from Ruby's place.
---
C o m m e n t s
No comments yet. You can be the first.
---