The streets where Caton's Castle, an imposing two-story restaurant/club and package liquor store, sits on the West Side of Baltimore might be called gritty, and the music heard one Sunday night in April certainly fit that description. Carl Grubbs brought in a quintet for some jazz echoing Grubbs' heritage as a Philadelphia-born alto and soprano saxman raised on the teachings and in the firm glow of John Coltrane through a close family connection.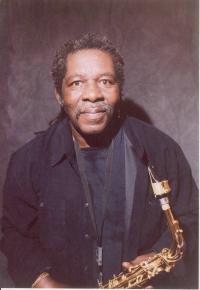 The occasion was a jazz dinner show at the Castle, which in recent years has provided a west side of town retreat for performances by Rene McLean, Don Braden, Nasar Abadey, Nathan Page and others. The crowd, drawn as well by the down home earthiness of the club's excellent fried fish and spicy chicken, heard the 57-year-old Grubbs lead his group through selections from his recent CD, Reflections, and assorted standards and originals. The CD -- recorded last April but just released in the last few months, was produced by Carl and his wife Barbara on the CG3 label. The recording served as an opportunity for Grubbs, now a full-time instructor at St. Paul's School outside of Baltimore, to recall a vibrant musical past with compositions that also honor his family and wife Barbara, like "Camille" and "Bossa/Barbara's Song."
With Grubbs that Sunday was longtime bandmate Elmer Gibson, a sterling pianist; Chris Sullivan, a bassist whose authoritative and bluesy bendings of the notes honor his affection for legends such as Slam Stewart as well as Ray Brown; the tasteful Webb Thomas on drums and Joe Falero on percussion.
While the group delivered solid versions of "Giant Steps," and Grubbs' own inspiring and virtuosic "May Song," among others from the recent CD, the real gems that night were Grubbs' "Reaching for the Sun," and Trane's signature "My Favorite Things." "Reaching for the Sun" became a bluesy, melancholy jam with Carl on alto taking off into a long avant garde-like acapella run of the improvised melody, accented by quick turns left and right, up and down, before bringing the band back to take it out. "My Favorite Things," saw Grubbs use the standard both as an homage to Trane and a departure point for his own unique frenetic spurts of lyricism -- while Gibson shined with his own dazzling runs, featuring playful inventiveness in the upper registers on piano.
Grubbs has long departed from his native Philadelphia, where he and his late brother Earl, a tenor player, recorded their noted album In My Youth with their group called The Visitors in the '70s. They perhaps became too well known for playing rhythmic, bluesy and soulful jazz and fusion to be truly acknowledged as superb jazz musicians, period. Sometimes overplaying -- possibly trying to play both his and his brother's part -- Carl Grubbs still displays the verve and majesty of a true jazz elder, one who deserves more credit for his writing, as well as his talents as a formidable bandleader and instructor devoted to teaching the heritage of the music to our youth. He's a jazzman with the chops to have played and toured across the country and abroad with many of the legends of the music, and the zest to still give a master class on any given night. That setting could be right in the 'hood at a place like Caton's Castle, or a downtown concert hall or an uptown art museum -- all venues he still plays, though all too infrequently for his many fans.
---
Steve Monroe (samonroe66@att.net) is a longtime journalist, poet and author, and currently a business editor for a weekly newspaper chain.
---
C o m m e n t s
Wonderful Review
1 of 1
Nagdade@cs.com

Warning: date(): It is not safe to rely on the system's timezone settings. You are *required* to use the date.timezone setting or the date_default_timezone_set() function. In case you used any of those methods and you are still getting this warning, you most likely misspelled the timezone identifier. We selected the timezone 'UTC' for now, but please set date.timezone to select your timezone. in /web/jh/public_html/com/comnlib.php on line 221
May 27, 02

Thanks for the wonderful review I've had a first hand listen of Reflection and must say that the album is absolutely his best I wanted more. I missed this concert but I plan not to miss any more again thanks and I enjoyed reading your account. Carl Grubbs Number two fan (Next to his wife) his oldest daughter Naima
---