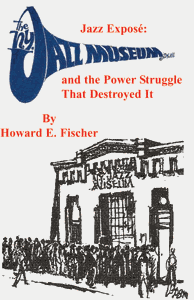 Howard E. Fischer is the author of Jazz Expose: The New York Jazz Museum and the Power Struggle that Destroyed It. Remembering the jazz museum of the 1970s, I wanted to give him an opportunity to expand on his years in the jazz industry.
Carla Rupp: It makes me sad (the museum) went out of business, because I had some good times there. I came to New York City in 1974 and you (your museum) were still around then and I enjoyed going there. And then all of it was gone a few years later. Why?
Howard E. Fischer: Egos, power, personalities, jealousy, all those factored in.
CR: So it wasn't that you could not afford to pay the rent any more.
HF: No, it wasn't the money, not at all at that time. It was because of the problems.
CR: Are those people still around today?
HF: Yeah, sure, a lot of them are. Sure.
CR: Can you name some of them?
HF: The main guys I was involved with were Jack Bradley and Dan Morgenstern. Jack is up in New England somewhere. I think he has a charter boat or something. He was one of the antagonists. And Dan, of course, is director of the Institute of Jazz Studies at Rutgers University.
CR: I went over there to do some research, and Dan was a big help finding files for me for my masters' thesis in jazz history.
HF: Which was on what?
CR: I did it on the history of the Modern Jazz Quartet and how the media covered them in over 40 years. I wrote about how the media looked at them in each decade and gave lots of examples, thanks to Dan's help. Jack, when was the last time you saw him?
HF: It was when we had the arbitration hearings. I think it was '77 or '78.
CR: Did you send him a copy of the book?
HF: I've had tremendous reviews of my expose of the lost jazz museum and its story. Did you look at the reviews?
CR: Yes. How do you feel today about some of the people who prevented this museum from going on?
HF: I've sort of stopped thinking about them since I wrote the book. I guess they thought they could do the job and I couldn't. They kept telling me I was paranoid. It's a very complicated situation. It just didn't work. There was too much animosity and distrust. I wasn't happy obviously with what happened. That's the way people act. It's human nature. It just didn't work. But I felt I wanted to tell the story. It really is the story of a lost museum. There is very little about the museum in books. The guy who wrote the story about jazz in New York City, in an encyclopedia of New York City, didn't even know about the museum. In my book it talks about that; and it mentions how (the author) never even heard of the museum. There's very little you can find on the jazz museum. Now there is a new jazz museum and people should know there used to be one. I wanted to indicate the accomplishments of the museum in my story and how I saw things and how it all played out. It is shocking you can't get some other information about it other than in my book. Basically there is very little you can find on the Web or in books about the museum.
CR: I wondered what happened to it.
HF: A lot of people have contacted me who have been to the museum, as well as many who have heard about it. They wanted to know what happened to it.
CR: The reviews of the book are very enlightening.
HF: It really is an unbelievable situation -- what we accomplished for five years. It certainly seems strange. At that time, the museum was the most significant jazz museum in the world. I think I proved that by material that is in the book.
CR: Are there museums of jazz in the world today that you could discuss?
HF: Yes, you'll find them all over the world. There's a National Jazz Museum and International Jazz Museum. If you put the words "jazz museum" in a search engine, you'll find them all over the world: one in Kansas City and others elsewhere. There's one in New Orleans and there are more in foreign countries than in the United States. Some are affiliated with colleges and universities, and there are many more than I thought there were.
CR: Did you hear from some of them?
HF: Yes, people from some of them have bought my book. I've heard from so many persons that I can't remember all of them. You'll find them (museums or people he has heard from) in Germany, Switzerland, of course England, probably in Japan -- and other foreign archives. It's amazing. You'll see if you look.
CR: How do you feel about reaction to the book?
HF: I'm very happy about the response from people who have read the book and from the media people who have reviewed it. And so the word is out. I've heard from some people who have been to the jazz museum and from some who have never heard of it. People think it's a fascinating story.
CR: Are you glad you wrote Jazz Expose?
HF: Oh, yeah sure. At first, it was cathartic. Secondly, I wanted to leave a legacy of that institution, and the book. It's instructive, too. For a lot of non- profit institutions, there's a lesson to be learned.
CR: What is the lesson?
HF: How organizations are operated, how boards operate, things like that are discussed; so people can think about those things before they get involved in building an organization.
CR: Would you do it again, knowing the outcome?
HF: Yeah, I would. I thought about that. My friends have asked me that same question. I did a lot of thinking about it, and I would say, 'Yes I would have this great museum back then.'
CR: What would you do differently?
HF: It's hard to say at this point. But it was a meaningful institution, and it had a chance, a real opportunity to grow even more significantly. I made friends there at the jazz museum in those days. I have good memories of the events, the photo exhibits on the wall, the concerts. We had singles parties that were very successful; the school groups came, visitors from foreign countries; there was an outreach program, with jazz touring; musicians went to other countries. We had films and exhibits. We had a huge archive, 25,000 items in the archive.
CR: Where did it all go?
HF: Most of it went to the Schaumberg Center in Harlem, and a bit went to the institution where Dan Morgenstern is the director. They got a few things, the Institute for Jazz at Rutgers University in Newark.
CR: Does the Schaumberg document the former jazz museum? Do they instruct the public about the earlier jazz museum in Manhattan?
HF: No, I don't think they use the materials at all that they got, which are materials from about 18 years ago. They received them then when the arbitration was settled. They paid off my judgment and received all of the materials.
CR: What did they consist of?
HF: Books, photos, posters, records, sheet music, files of all kinds, catalogues, the booklets we produced, magazines.
CR: Can the public and jazz journalists go in and look at these things?
HF: As far as I know. The stuff is there. I did research up there for my book. But nobody knows they are there. They might have had one program that I can remember utilizing the materials
CR: So they are unused materials for the most part?
HF: There are about 30 boxes, maybe more, with all the files, and notes from the museum we had accumulated. Then they also have all the archival material. It's a huge amount. It is a lot of stuff. Anyone can ask to go see the jazz material.
CR: Can I look at these things in the boxes?
HF: Yeah, you can go look. There are photos. I used some of the photos from the files. I put some of these pictures in my book, but I had to pay for them. I was just the founder and director. The museum was a non-profit, tax-exempt organization. Dan was the main guy who testified for me. He was the main guy who helped me. He testified on my behalf. I have kept in touch with him over the years.
CR: Has he read the book?
HF: Someone from his staff has the book. I called him from the beginning of writing my book.
CR: It sounds like a good thesis. It's good you wrote it
HF: Thank you.
CR: How do you feel today about the topics you cover in the book?
HF: Generally, I'm pleased I was able to say what was inside me all these yearsÉand to set forth what happened from the beginning to the end.
CR: Are there topics that you feel jazz journalists are not covering?
HF: On the subject of the lost museum of jazz in New York, there was a lot of media coverage during the time of our museum, but some of it wasn't positive in the end. It was positive in the beginning of the museum. The arbitration was way after the museum closed. It wasn't about the museum except for the testimony. In the back of the book is a list of all the media coverage of the museum. Right now nobody ever heard of the museum. A lot of journalists I've spoke to have never heard of it. Since there's nothing on the book or on the Web, the newer journalists have hadn't heard of it. Now I've been promoting for a number of months.
CR: Who were the journalists doing the best jobs?
HF: There have been articles in The Christian Science Monitor, The New York Daily News, The New York Post, The New York Times, Playboy, The Newark Star-Ledger. We have had tremendous coverage. It was thriving, the museum, and people loved it. There was no charge to come in.
CR: I watched films and saw concerts there.
HF: We had jazz puppet shows; concerts every Sunday were sponsored by Calvert Extra, which was part of Seagram's. It was quite a thing. They sponsored for two years.
CR: How are the '70's different from other decades? What are the issues in jazz today?
HF: I'm a collector of records. I don't follow the issues of the jazz industry. I'm divorced from that voluntarily.
CR: Who are personal, favorite artists who are in your collection?
HF: Johnny Hodges, and I like the Chick Webb Orchestra, Duke Ellington and Count Basie. Duke came to the museum, Count Basie came, and Benny Goodman came when we had openings. It's all in the book about these musicians coming to the museum. We had a lot of celebrities who came: Bill Cosby Joe Williams, Soupy Sales. We had some nice times with them all. Tony Bennett would come. They would all pop in.
CR: What are the politics that upset you in jazz?
HF: Today, as I said, I'm not really following the scene. I read about things. I said what I had to say in the book. I did what I did many years ago in jazz. I got it all out of my system. I'm basically still interested in the people from the museum days and have fond memories. I met Louis Armstrong and like to talk about the times I met him. I give some interesting anecdotes in the book. And there are stories about Benny Goodman in the book. Charles Mingus was a client of mine when I was practising law, and I tell a story about him.
CR: Was he a nice guy?
HF: To me he was. I liked him a lot. We had a good relationship. I don't know about everybody else.
CR: You were a lawyer.
HF: Yes, I was. I learned a lot of people in the jazz business. Some jazz musicians were good people and other jazz musicians are bad people in social situations. This is like it is in society in general. There were a lot of good jazz musicians in social interactions and bad ones as well.
CR: What are you up to?
HF: I'm trying to do a movie right now, called They Died Before Forty. I'm trying to raise money for it. . . . I also do sales of music memorabilia, including monthly sales at my office. My website for this is www.musiccollecting.com.
---
C o m m e n t s
No comments yet. You can be the first.
---