Had there been time and energy left over from attending performances from early or mid-afternoon to the wee hours for ten days, I could have investigated the art, architecture, and natural beauty that Perugia, the site of the Umbria Jazz festival for three decades, abounds in. Alas, I only caught glimpses of the Etruscan and Roman remains here and there and the Medieval edifices that grace the historic center of the two-and-a-half-millennium-old city. The thing to do, I told myself, is to return for a visit when jazz is not in the air.
In the air, in fact, is exactly where much of the music took place. The festival management and the city are to be commended for the many performances on four outdoor stages. Free of charge, these venues were always thronged with several thousand standees and hundreds perched on nearby steps and walls. Perugia and Umbria Jazz are clearly public spirited from the word go, for this act of generosity provided exposure to the music for many who could simply not spare the bread to enter ticket-requiring venues. The theater and club performances were $10 and $20 and seats at the 4500-seat outdoor Giardini del Frontone -- where such big-name acts as the Pat Metheny/Michael Brecker/Larry Goldings/Bill Stewart combo, Buena Vista Social Club, Afro Cuban All Stars, Lincoln Center Orchestra, and Keith Jarrett/Gary Peacock/Jack DeJohnette trio performed -- were in the $25 to $60 range. Fees paid some of the groups for these one-night appearances, it was reported, were $50,000 to $75,000.
Your reviewer will not attempt to describe in detail all of the forty or so performances he caught, but will concentrate on a few, summarizing briefly the rest of the festival program.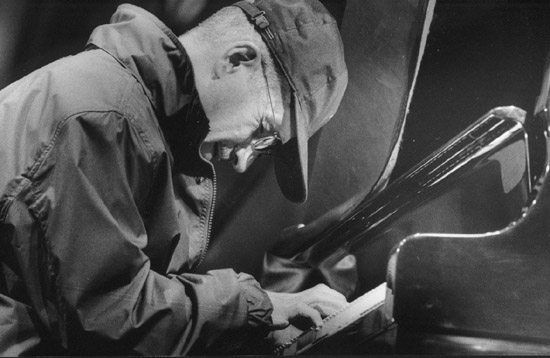 Keith Jarrett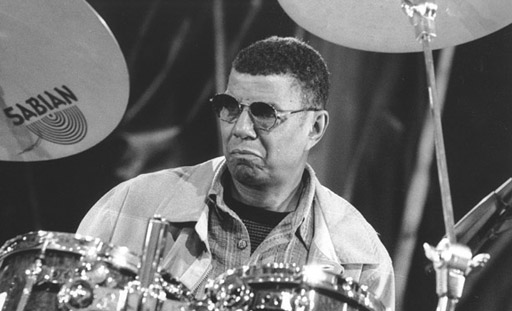 Jack DeJohnette
Patricia Barber and her companions, bassist Michael Arnopol and drummer Dana Hall, in a 'Round Midnight program-- so named because these sessions were often dilatory in getting underway -- in Teatro Pavone's Blue Note Theater, brought off with distinction several instrumentals, including "Caravan", with the pianist now scatting a horn part, now diving inside the instrument to pluck strings in duo with the bassist. Barber also provided intriguing post-modern takes on standards like "Autumn Leaves" and she vocally reshaped "You Are My Sunshine" intriguingly, retaining the essence of its country music character while giving it a jazz feel.

Barber is a truly unique artist who with great depth projects the grim side of life, on occasion with a virtual vengeance. She is also a pianist of imagination and well honed chops. It has to be said, as well, that she is a quirky performer to watch, a sculpture in progress. Many of her mannerisms -- e.g., hands abruptly flying to her face with fingers extended or twisted at awkward angles and caught in freeze frame, ghoulish, mid-distant stares as she swivels on the bench and, hunched over with her hair falling in her face, glares at the audience for a nanosecond, never losing a beat -- are bizarre, yet they are clearly part and parcel of her artistry. No more are they affectations than Keith Jarret's moaning or Cecil Taylor's mid-number dances. Her husky voice is well adapted to convey ache and cynicism, and it can also project pure joy. Her sometimes furious pummeling of the keyboard, her repertoire of harrowing facial expressions, and her somewhat funereal attire all mirror the jaded view of human existence that the lyrics of her compositions give expression to. For example, the shockingly blunt refrain, "I need you, I lost you, what a shame", and her pathos-filled reading of "I'm a Fool to Want You", which had her hands at times behind her back, fingers alternately dancing ecstatically in air and wringing in tortured agony.

So captivated was I by Barber's striking individuality and the musicianship of the threesome -- Arnopol and Hall carried off riveting solos -- that, notwithstanding the killing schedule I was saddled with, I returned the next day for another experience of the combo, the only such indulgence I granted myself during the festival.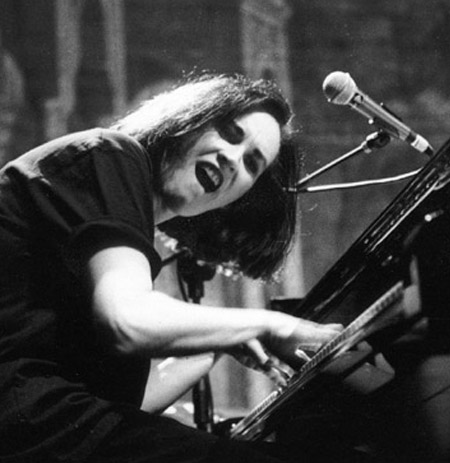 Patricia Barber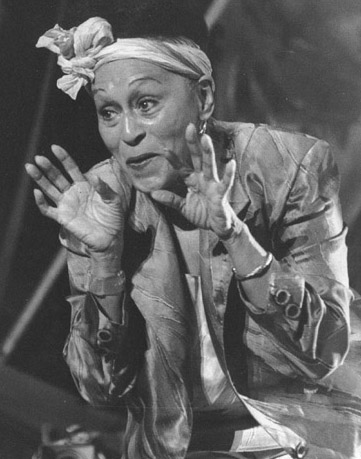 Omara Portuando of the Buena Vista Social Club
Led by Don Sickler, whose arrangements supplemented those of Hall Overton and the late pianist/composer himself, the Monk Tentet All Stars mounted the stage of Teatro Morlacchi at midnight. The jagged movement of Monk's music was apparent from the outset in the nuanced solo statements of saxophonists Johnny Griffin, Harold Land, and Steve Lacy and trumpeter Jack Walrath on "Epistrophy". Also abundantly evident throughout the program of a dozen classic compositions was the sheer joy that the musicians took in Monk's creations. Billy Higgins' surprise-filled drumming, always technically flawless, and his buoyant musical personality provided constant delight.

Highlights, to mention only several of many, were trombonist Eddie Bert's solo on "Evidence", baritone saxophonist Howard Johnson's and Sickler's on "I Mean You", and the interplay between the reed section and bassist David Williams on "Bright Mississippi", the Tentet's final selection. When the musicians rose to depart the stage it was 1:30 A.M. or so, but the audience, filling the opera house to its third balcony, wanted more and were hardly satisfied with several curtain calls by the musicians. So pianist Ronnie Matthews returned and quieted the hall with a splendidly Monkish interpretation of "Crepuscule with Nellie". The pandemonium that accompanied Matthews' withdrawal produced Johnny Griffin, who took a seat at the piano for a rendering of "Monk's Dream". Still unwilling to call it a night, the Tentet's fans, continuing to clap, stamp feet, scream, and whistle for more, succeeded in coaxing David Williams and Billy Higgins from the wings for a reprise of the evening's opening number.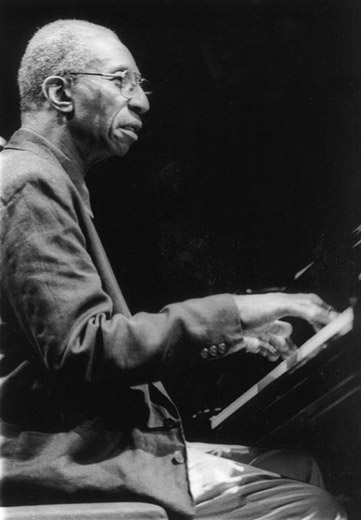 Ronnie Matthews
The Johnny Nocturne Band, led by tenor saxophonist John Firmin and featuring Kim Nalley, a world-class band singer of enormous talents and a wickedly erotic stage presence, held forth every day on one or the other of the outdoor stages, and so I heard snatches of the blues-drenched nine-member group throughout the festival's run. One afternoon I hung out for a set at Piazza Della Repubblica and was gratified that they were offering, gratis, their splendid musical fares to a delighted, even mesmerized, thousand or so instant fans of all ages. There was no language barrier as Nalley communicated her mischievous come-ons and no-nonsense rejections with palpable body English and unequivocal inflections on "I'm Stickin' With You Baby", "I'm Checkin' Out Go'om Bye", "Minnie the Moocher", and other classics of the genre. With Nalley out in front shimmying to the beat and belting the blues, the tassels of her dress swinging to one side as her posterior bumped to the other, Firmin's hard-swinging tenor egging her on, the three other horns riffing beneath her seductive invitations, and a four-piece rhythm section stoking the furnace, the Johnny Nocturne Band all but moved back the walls of the adjacent Medieval structures. If given the proper exposure, this outfit could well introduce the young generation, now so taken with hokey Retro Swing bands, to the real thing, for the Johnny Nocturne Band is authentic to its core.

Well prepared for the "jam band" scene by my son Neale's devotion to the aural delights of Phish, M M & W, the Jazz Mandolin Project, and Bela Fleck & the Flecktones, I dug the set that guitarist Charlie Hunter's trio played one afternoon in Teatro Pavone's Blue Note Theatre. They had this observer searching the stage for another musician, since the leader's gear at times simulated a Hammond organ's sound. Indeed, Hunter, a frequent presence at jam band festivals, comes across as a multi-instrumentalist, so diverse are the effects he elicits from his axe and its accessories. His cohorts, percussionists Chris Lovejoy and Stephen Chopek, accompanied on congas, snare, shakers, and sundry exotic devices for a sustained polyrhythmic carpet that kept the listener moving in place, and they also broke into solos that maintained the irresistible drive of the proceedings and held one's attention.

Another unit that partakes of the jam band festival circuit is Michael Ray & the Cosmic Krewe, an octet that sports Sun Ra-style regalia, features a female dancer in constant, African-derived cum hoochie-choochie movement, and is driven relentlessly by its six-person rhythm team and two horns. The Krewe's idiom is a blend of r & b, Sun Ra-inspired collective chaos, free form improvisation by its soloists, and, in their own terminology, "jazz funk of the future". The most visually striking band at the festival, they were clearly a hit with the entranced thousands standing in Piazza IV Novembre or sipping drinks at a nearby sidewalk cafe. Farcical some of their antics were but their funky on-the-edge musical message was of a consistently high quality.

Chicago-based Kurt Elling, one of the hottest singers working today, delivered an action-filled set early one evening in the Blue Note Theatre -- temporarily so named as the venue for the label's recording artists -- of Teatro Pavone. His high-speed scat on "April in Paris" was quite amazing as he took on the role of a horn on top of his churning rhythm team of pianist Laurence Hobgod, bassist Robert Amster, and drummer Michael Raynor. Trading fours, whistling, employing fluttering lips and keening highs on Horace Silver's "Blowin' the Blues Away", translating instrumental solos into a very original vocalese dialect on Wayne Shorter's "Night Dreams", working up such a head of steam on other selections that the audience started clapping on the off beat, and generally swinging his you-know-what off, Elling achieved a nearly charismatic presence.

And what's great is that Elling's support team kept up with him every inch of the way. As a bonus, Raynor contributed an extended solo of empyrean quality on the Silver tune, gradually raising the dynamic from the whispered sound of an ant tap dancing on the snare to crescendos across his array of drums and cymbals. It was that rare percussion statement that had continuity and structure, and one's fascination with its narrative never flagged. No wonder the Blue Note was S.R.O. Word had gotten around since his 'Round Midnight performance the night before that Kurt Elling and his combo were not to be missed!

American bands and combos dominated the festival in a three to one ratio to those from elsewhere, filling most of the stages during the evenings and, of the more than a hundred outdoor free-admission venue slots, only a dozen or so offered non-U.S. units. Except for the headlining one-nighter acts at Giardini del Fontone, most acts repeated daily during the course of the festival, some on the outdoor stages, others in the theaters. Some, however, were only briefly in residence, for instance Steve Turre, Barber, and Elling. Turre and his quartet were on a ten-day swing of festivals in four countries and thus present at Umbria Jazz for only two performances. As always, the trombonist, who took first place on his instrument in this year's Down Beat Critics Poll, was a joy to watch and hear on his 'bone as well as when he was blowing into one or another -- sometimes two at once! -- of his varied-pitch collection of conch shells. Bassist Steve Novosel, at the top of his game, contributed mightily to the combo's impact, as did pianist Stephen Scott and drummer Carl Allen.

The Lincoln Center Orchestra, in addition to appearing at Giardini del Frontone one evening, was broken down into small groups for a program in Teatro Morlacchi the night before. Of the four mini-sets, two stood out. One was that of baritone saxophonist Joe Temperley, who applied his masterful technique with a facility that made of his cumbersome horn the perfect vehicle for exploring the twists and turns of a difficult tune, Oscar Pettiford's "Tricotism". The other was the Wycliffe Gordon Octet. Trombonist Gordon's creative imagination and respect for the jazz tradition had him combining an homage to the past and a nod to the Millennial present as, wrapping himself in sousaphone and bebop/free jazz-bred companions, he led his band in stomping, contemporary-flavored takes on "Precious Lord" and "Battle Hymn of the Republic".

Notwithstanding the luminary status and greater numbers of the Americans, the performers from Europe and other climes made a mark of world-class quality for their art and musicianship. The Elfa Singers of Indonesia were a Manhattan Transfer-type group whose cooking set included an incendiary excursion on "How High the Moon" and a slow-burning "Night and Day". Steve Rushton, of the explosive Ray Gelato Giants from Great Britain, carried off one of the most spectacular drum solos these eyes and ears have ever witnessed. A Neapolitan unit, "Ex voto" Marco Zurzolo con Banda, M.V.M., utilizing three reeds, two trumpets, accordion, oud, lute, bass, and two percussionists, mixed marching-band pulse, romantic Mediterranean folk melodies, big band ensemble power, and outrageous "outside" blowing by its alto saxophonist leader.

Several of the Italian horn players were outstanding, for example, trumpeter Flavio Boltro, with his raw vibrato and bold projection, altoist Rosario Giuliani, whose dry tone, quavering overtones, deep reaches into his horn, and use of masterful circular breathing built phrase upon phrase to telling effect, and the redoubtable Enrico Rava, whose emotion-filled trumpet power and sublime flugelhorn lyricism were featured with symphony orchestra in a Giardini del Frontone concert that paid tribute to composer Lucio Battisti. The Poppoo, a quartet from Finland, impressed with the energy of its exchanges between alto and vibes on Nat Adderley's "Tingle Tangle", its strikingly original recasting of Nature Boy", its use of unusual materials, for example, "Don't Hurry, Take it Easy", announced as "an old Georgian song", and their "scramble" attack, the nomenclature they have adopted as defining their musical ethos.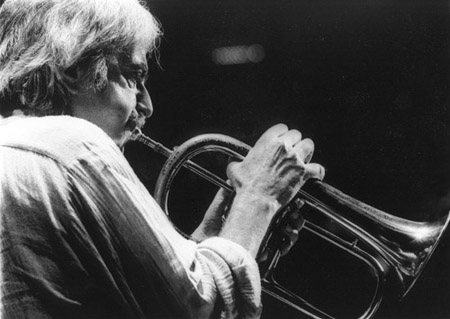 Enrico Rava
In addition to The Poppoo's Severi Pyysalo, the festival featured vibraphonists Steve Nelson, with bassist Dave Holland's quintet, Stefon Harris, in a quartet co-led by pianist Jackie Terrasson, and Gary Burton, who led a Tribute to Milt Jackson one afternoon in Teatro Morlacchi. The next day at noon Burton presented Berklee College of Music honorary doctorates to James Moody and Holland in a ceremony in the Sala dei Notari, an august and historic chamber of the Palazzo dei Priori. Then there was vibe monster Joe Locke with his quartet of pianist David Hazeltine, bassist Essiet Essiet, and drummer Tony Reedus. In fact, a Sunday-night hour-and-a half midnight set of Lockes cooking foursome was the very last act I caught at Umbria Jazz 2000.

Roberta Gamberini, from Milan and a 1998 Thelonious Monk Institute third-place awardee, displayed total control of a remarkable voice that can both project and turn gentle, as when, respectively, she offered a swinging "Do You Know What It Means to Miss New Orleans" and a cushion-soft "It Never Entered My Mind". Unfortunately, she was accorded hardly more than a cameo appearance in her single festival appearance, as guest with the trio of Larry Willis. She was brought on only for those two tunes after forty-five minutes of pianist Willis playing his own compositions. There were other voices of note at the festival, including those of Mary Stallings, featured with the stellar quartet of pianist Eric Reed and altoist Donald Harrison, Barbara Casini, appearing with Enrico Rava, and the magnificent thirty-strong Bobby Jones Nashville Super Choir.

Of others who performed at Umbria Jazz 2000 as combo or band leaders, there were pianists John Lewis, Chucho Valdés, Danilo Rea, Gonzalo Rubalcaba, Enrico Pieranunzi, and Jerry Tolson; trumpeters Roy Hargrove and Wynton Marsalis; reed players Gabriele Mirabassi and Pietro Tonolo; singers Natalie Cole, Al Jarreau, Claudia Acuña, and Antonia Bennett; drummer Roy Haynes; guitarist Jorge Ben Jor; and accordionist Richard Galliano. Also on hand were Oscar D'Leon Y Su Orquesta, the U.S. Army Soldiers of Swing, the Olympia Brass Band, the BYU-Synthesis Jazz ensemble, Augusto Enriquez Y Su Mambo Band, the California State University at Hayward Band, the Berklee Group, directed by Bill Pierce, the Southwest Texas University Band, the Peoria Jazz All Stars, and the Evanston Township Jazz Combo.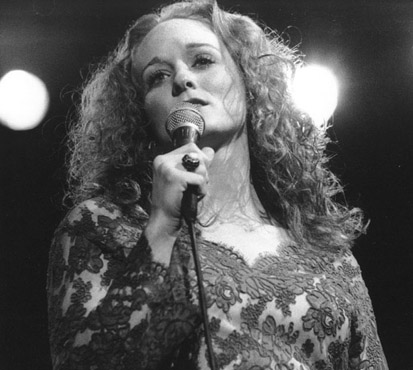 Antonia Bennett
In two public forums -- a joint TV interview with other journalists from Great Britain, France, Italy, Japan, Australia, and the U.S. and a wrap-up press conference paneled by festival management and Perugia officials, including Umbria Jazz producer and artistic director Carlo Pagnotta and the city's mayor -- I spoke warmly of my time in Perugia and at the festival on this my first visit. But I also went on record with two opinions of a critical character. On TV I noted that the festival's program was nearly devoid of the leading edge of jazz except for a few individual players, mostly European, and at the press conference I observed that the festival suffered from a singular absence of female instrumentalists. I pointed out that I had seen a total of only four such women players-- three brass sidepersons in two of the American college bands and a baritone saxophonist in the band from Naples. I went on to say that the exclusion of women-led groups and all-female bands constituted a lost opportunity in terms of jazz education, especially considering the strong presence at Umbria Jazz 2000 of Berklee College of Music with its workshops and outreach programs. The future booking of, say, such artists as trumpeter Ingrid Jensen and baritone saxophonist Claire Daly with their combos and bands like Diva, the Kit McClure Big Band, and Maiden Voyage would encourage young women from the area as well as among the visiting fans to consider taking up brass, reed, string, and percussion instruments.

Otherwise, as I have certainly made abundantly clear above, Umbria Jazz 2000 was of a very high caliber and a grand event of the first order, and not least of the pleasures attendance thereat provided was exposure to the charming city in which the event took place.

--wrs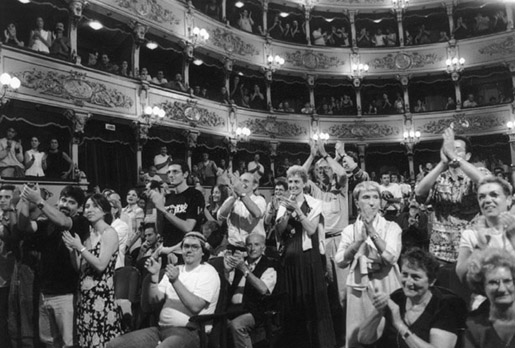 An appreciative audience at Teatro Morlacchi, Umbria Jazz 2000!
---

All photographs by Giancarlo Belfiore, Perugia, used with permission.

---
C o m m e n t s
ABOUT OMARA PORTUONDO
1 of 1
M. REYES

Warning: date(): It is not safe to rely on the system's timezone settings. You are *required* to use the date.timezone setting or the date_default_timezone_set() function. In case you used any of those methods and you are still getting this warning, you most likely misspelled the timezone identifier. We selected the timezone 'UTC' for now, but please set date.timezone to select your timezone. in /web/jh/public_html/com/comnlib.php on line 221
December 27, 08

IT AMAZES ME ALL THE TIME WHEN I SEE MRS. PORTUONDO ENJOYING FAME AND TRAVELLING WHEREVER SHE WANTS TO AND SAYING NOTHING ABOUT HER OWN PEOPLE TRAPPED IN THE CUBAN ISLAND, HER COUNTRY, WHERE PEOPLE ARE STRAVING TO DEATH EVEN LIVING LIKE ANIMALS WHILE THE GOVERMENT SIMPLY REFUSE TO HELP THEM OUT TO THE POINT OF REJECTING FINANCIAL HELP FROM THE UNITED STATED AFTER LAST HURACANE THAT WOULD PUT HER PEOPLE OUT OF THE MISERY THEY ARE LIVING IN . IT IS SAD AND EVEN MORE WHEN WE, THE CUBANS WHO COULD SCAPE FROM THAT REGIME, SEE HOW ALL THIS ORGANIZATIONS AND BIG COMPANIES LIKE THIS ONE, "JAZZHOUSE" LOOKING THE OTHER WAY AND BECOMING PART OF THE CRUEL MACHINE. OMARA PORTUONDO IS A GREAT ARTIST, AS WELL AS A GREAT SHAMEFULL CUBAN CITIZEN LETTING THE REGIME USE HER FOR THE INSANE PROPAGANDA.
---