International Herald Tribune
Wednesday, February 9, 2005
PARIS In Footprints Michelle Mercer's important new biography of Wayne Shorter, she describes Carlos Santana's first take on her subject. "I didn't have words or facility to talk to him. It's the same thing with Wayne or Miles or Coltrane. You don't just stroll up and say, 'Hey man.' If you're sensitive in your heart and have some dignity, you don't approach them like that. So I admired him from a distance."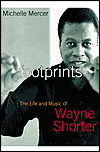 "Like Herbie, Miles, Duke or Bird," Mercer writes, "Wayne has one-name-only status." She refers to the principals in her story by their first names or nicknames. This nominal informality is in fact the sensitive way to approach writing about jazz; it is one example of what sets jazz apart from so-called "serious" music. There is at least the fiction that it is family. It helps her set the right style for her task.
Shorter can certainly seem distant. His voice is quiet and introspective, his ideas abstract. There is at times the uneasy feeling that a level is escaping you. Mercer holds that Shorter belongs in the elite line of jazz greats not only because of his compositional and instrumental importance, but also for the depth of his intelligence.
Born in Newark, New Jersey, in 1933, Shorter has played with Art Blakey's Jazz Messengers, Miles Davis, Weather Report, Milton Nascimento, Santana, Joni Mitchell and Steely Dan, plus a multitude of his own groups. A Buddhist, he has been known to answer the question, "Do you know what time it is?" with an essay about eternity.
Shorter tends to speak in parables. He will ask his band to play "some stem-cell research music." He learned that sort of thing from Davis, who once told him to play like Humphrey Bogart throwing a punch. Shorter sees a lot of movies and reads a lot of books.
Listening to him play the saxophone is a bit like watching a film by Eric Rohmer. His body language is introverted, his sound is soft and engulfing and he will never honk or screech without a good reason. You need to interact with, more than listen to, Shorter. Mercer writes that he has "produced one of jazz's great oeuvres, crowding out the likes of Ellington and Coltrane for space in the fake book, the collection of standards that is required study for most jazz students."
"Music is like a piece of clay," Shorter once said. "You get inside it, make a cubbyhole and then punch your way out."
Shorter wrote a composition called "Syzygy," a word he found by coincidence in a dictionary, meaning a straight-line configuration of three celestial bodies, like the sun, moon and earth in an eclipse. Shorter's wife, Carolina, said that he "wrote it while watching television the whole time. He likes to see what is directing people's minds."
Shorter told Mercer, "When your wisdom is developed, anything and everything is a ways and means of creating something valuable." "Syzygy" was first performed by the Detroit Symphony Orchestra as part of its Millennium Jazz Celebration.
In December 1965, the Miles Davis quintet - Shorter was Coltrane's replacement - played a historic engagement at the Plugged Nickel club in Chicago. The rhythm section was young: Herbie Hancock, piano; Ron Carter, bass, and Tony Williams, drums. They had already worked together, but Davis had been sick, and now that he was ready to go, they realized that they were tired of playing hits like "So What" and "My Funny Valentine" the same old way every time. Williams suggested a solution: "What if we play anti-music? Like, whatever somebody expects you to play, that's the last thing you play?" On the seven-CD box, Live at the Plugged Nickel, you can hear how the looseness of the form and the importance of the silences, and Shorter, would change the future of the music.
In the early 1970s, Shorter co-founded Weather Report with the keyboardist and fellow composer Joe Zawinul. Although it was only a jazz-rock fusion band, they wanted to change the song form. Why did a song have to have eight bar phrases? Why not more or less? "We were talking about doing music that had mountains and streams and valleys and going over hill and dale," Shorter told Mercer. "We were trying to do music with another grammar, where you don't resolve something, like writing a letter where you don't use capitals."
His return to acoustic music was big news in the 1990s. Mercer says that the scene has gotten to the point where "Wayne isn't just on the scene. He made the scene." Once he was rehearsing his composition "Water Babies," and his musicians wanted to know how he planned to establish the tune's tempo after its loose rubato intro. "Let's not set it," Shorter said. "We'd rather go for elusiveness than clarification."
---
Mike Zwerin filed this story originally for the International Herald Tribune.
---
C o m m e n t s
Zwerin
1 of 2
Svirchev

Warning: date(): It is not safe to rely on the system's timezone settings. You are *required* to use the date.timezone setting or the date_default_timezone_set() function. In case you used any of those methods and you are still getting this warning, you most likely misspelled the timezone identifier. We selected the timezone 'UTC' for now, but please set date.timezone to select your timezone. in /web/jh/public_html/com/comnlib.php on line 221
February 22, 05

Reading Zwerin is akin to reading Whitney Balliett. There's always something new,something refreshing. Zwerin is one writerly dude.
---