JJA Discretionary Awards - Chicago, 2003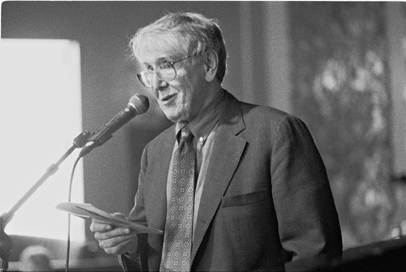 Dr. Quentin Young (presenter)
The Jazz Journalists Association's Discretionary Awards celebration in Chicago on June 25 (same night as the Jazz Awards at B.B. King's in NYC) was held at Hot House, the multi-cultural center in the city's South Loop. Jim deJong, veteran independent jazz consultant, and Dr. David Hinkamp, director of Health in the Arts, were honored for their contributions "to and beyond jazz" -- JJA member (and NARAS board member) Neil Tesser was MC, with Dr. Quentin Young, formerly chief of Cook County Hospital and a longtime advocate of health care reforms, as guest speaker.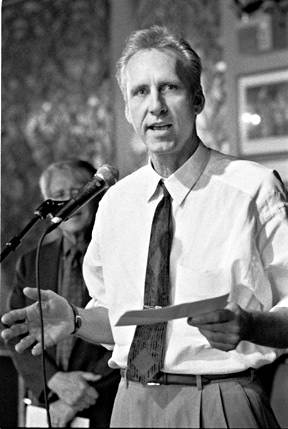 Dr. Dave Hinkamp (honoree)
The extraordinary Fern Bogot produced this event for the JJA, with assistance from photojournalist Marc PoKempner, photographer and executive director of the Jazz Institute of Chicago Lauren Deutsch, writer Art Lange, Hot House director Marguerite Horberg, and a host of others. David Whiteis wrote about the event for the Chicago Reader, and sponsors for the Chicago JJA party included Pfizer Inc., Warner Bros., A440 Records, Verve Records, and the Museum of Contemporary Art. Attendance was approximately 75.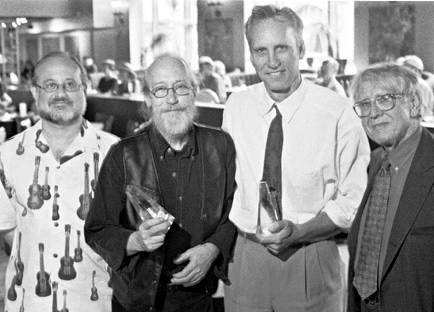 Neil Tesser, Jim DeJong, Hinkamp, Young
And there was a lot of music -- from the irrepressibly effervescent blues pianist and singer Yoko Noge with her Jazz Me Blues Band (featuring soprano sax gem/music photographer Clark Dean, Southport recording artist Joanie Pallatto (who did a hilarious scat improv roasting deJong), Kurt Elling and Giacomo Gates (who then left for their duo gig at the Green Mill, some of our crowd following along) reedist Mwata Bowden with a band led by his son, a rapper (sorry: what's that name again?) and an appearance by congero Joe Rendon.
---
C o m m e n t s
No comments yet. You can be the first.
---