JUNE 25
The Jazz Journalists Association has announced winners of the Jazz Awards 2000 at a cocktail party Sunday, June 25, 2 - 4 p.m., in the main space of the Knitting Factory (74 Leonard St., NYC NY). [Winners also available in Russian!]
Honoring jazz musicians and jazz journalists for the fourth year in a row, the JJA's Jazz Awards represent a two-ballot process, wherein the approximately 300 members of the Association (writers, photographers, broadcasters and new media professionals) are polled first for nominees, and secondly for winners, this year in 37 categories reflecting excellence and accomplishment in the 12 months May 1, 1999 to May 1, 2000.
In 1998 and 1999 the JJA was partnered in this initiative by KnitMedia, which produced two Jazz Awards shows for cybercast and broadcast (last year) on BETonJazz. The JJA is the sole presenter of the Jazz Awards 2000. Nominees for the awards are here.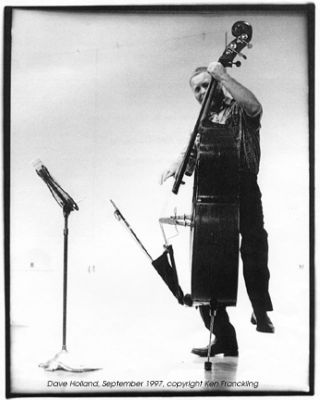 Dave Holland - winner in 3 categories
Hi folks -- everybody (about 60 of us?) seemed to have a good time at the Jazz Awards 2000 party held by the Jazz Journalists Association at the Knitting Factory this afternoon (2 - 4). We had an open bar and generous banquet platters courtesy of the KnitMedia. Among the JJA members present who deigned to present awards (elegant, understated standing plexiglass trapezoids, engraved with winners' names) were (in no particular order and as best I can remember, rather exhausted):
Art Lange, AJ Smith, Dan Kassell, Lynda Bramble, Enid Farber, Paul Blair, Ted Panken, Drew Wheeler, Steve Smith (new member), Larry Blumenfeld, Russ Dantzler and Sharony Andrews Green. Other presenters were Joe Petrucelli, Kitty Brazelton and Rosie Mandel; other JJA members in attendance were Steve Graybow, Don Heckman, Bob Margolis (new member), Martin Patmos (new member), R. Andrew Lepley . . . I know I'm leaving several out.
Michelle Mercer was a great help throwing this party; Neil Tesser was incredible in designing and following through on the manufacture and timely delivery of the awards. Many thanks to Lynn Kalbacher and Mitchell Seidel of Hot House magazine for the programs, to Alexis and Larry for heroic work running the bar and the entire club (respectively), and overall to KnitMedia's Michael Dorf, for hosting us. Also to those JJA members who have anonymously supported the awards with voluntary contributions -- this is the "gang in the green room."
Some of the winners who were there to pick up their awards: Greg Osby, Jason Moran, Stefon Harris, Russell Malone, Sy Johnson (chief arranger for the Mingus Big Band; Sue Mingus came after getting stuck in traffic), Eric Wynne (of JazzTimes) and Steve Lacy (I myself got lucky and picked up two; Whit Blauvelt, webmaster of the JJA's www.Jazzhouse.org accepted the Best Website award for all of us. Some of the other musicians who attended: Clare Daley, Roswell Rudd, Gregg Bendian, Andy Middleton, Roberta Piket, Kendra Shank, Randy Johnston, Terence Blachard, Marty Ehrlich . . .
Thanks to everybody for coming, and for the general support for this awards initiative. Please use whatever resources you have to further news of the celebration of these musicians, journalists, entrepreneurs and all the others keeping jazz alive.
The following are winners in
29 musician and 8 jazz categories of the
Jazz Awards 2000
Lifetime Achievement
Ornette Coleman
Musician of the Year
Dave Holland
Album of the Year
Prime Directive
Dave Holland Quintet
ECM
Record Producer of the Year
Michael Cuscuna
Tribute Album
Traveling Miles
Cassandra Wilson
Blue Note
Reissue of the Year
The Complete Columbia Recordings 1955 - 1961
Miles Davis and John Coltrane
Columbia Legacy
Events Producer (individual, business or organization, profit or not-for profit, of concerts, club engagements, or tours)
Michael Dorf
KnitMedia
Finest live performances
Dave Holland Quintet

Composer
Andrew Hill
Male Singer
Kurt Elling
Female Singer
Shirley Horn
Recording Debut
Soundtrack to Human Motion
Jason Moran
Blue Note Records
Latin Jazz Albums
Briyumba Palo Congo and Live at the Village Vanguard
Chucho Valdes
Blue Note Records
Small Ensemble
Chick Corea and Origin
Large Ensemble
Mingus Big Band
Trumpeter
Dave Douglas
Trombonist
Wycliffe Gordon
Brass
Howard Johnson

Alto Sax
Greg Osby
Tenor Sax
Joe Lovano
Winds and Reeds
Steve Lacy
Pianist of the Year
Kenny Barron
Keyboards
Larry Goldings
Guitarist
Russell Malone
Bassist of the Year
Dave Holland
Plucked and bowed strings
Regina Carter
Marimba/vibist
Stefon Harris
Percussion Master
Tito Puente
Drummer
Roy Haynes
JAZZ JOURNALISM CATEGORIES
Jazz Journalism Lifetime Achievement
Nat Hentoff
Excellence in Broadcast
Phil Schaap
Excellence in Photography
Herman Leonard

Excellence in Writing
Howard Mandel
Best Film-Video of the Year
Jazz Casuals
Ralph Gleason
Rhino
Best Periodical
Jazz Times

Best Jazz Website
www.Jazzhouse.org
Whit Blauvelt, webmaster
Best Book
Future Jazz
Howard Mandel
Oxford University Press
These awards result from pluralities in numerical tabulations from 90 ballots by members of the JJA. A listing of the nominees (five in most categories) is here.

I hope you're very well -- please share this news! Thanks -- Howard Mandel

---
C o m m e n t s
Jazz congrats
1 of 7
Cyril

Warning: date(): It is not safe to rely on the system's timezone settings. You are *required* to use the date.timezone setting or the date_default_timezone_set() function. In case you used any of those methods and you are still getting this warning, you most likely misspelled the timezone identifier. We selected the timezone 'UTC' for now, but please set date.timezone to select your timezone. in /web/jh/public_html/com/comnlib.php on line 221
June 28, 00

Dear Howard,

My congratulations! Your book is really a treasure and it's worth even more than JJA awards. We jazz journalists here in Russia were eager to find out who wins. All winners are great. All the jazziest to everybody!

Best regards, Cyril mailto:moshkow@jazz.ru
---