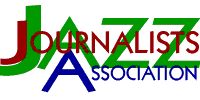 2002 Jazz Awards Photo of the Year Entries
All photos copyright © 2002 by the photographers
---
Andrew Lepley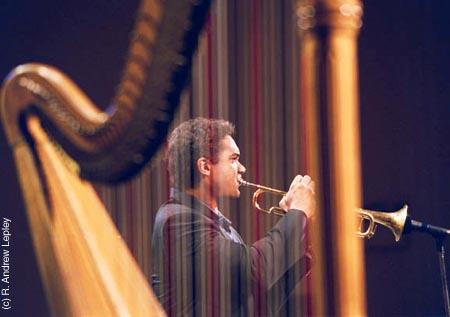 I'd like to put the attached photo in the running for jazz photo of the year. You may recognize it from the Tribute to Gil Evans page in the gallery.
The photo is titled: Shot Thru the Harp
It was made on October 27th of 2001, at the Manhattan School of Musics' Borden Auditorium. It's a shot of Miles Evans (son of Gil Evans) soloing on trumpet, as seen through a harp that was on stage for a different part of the concert.
R. Andrew Lepley
RAL Photography
(201) 876-9599 Ph/Fax
(201) 388-7783 Mobile
Studio / Stage / Location
---
Christopher Hovan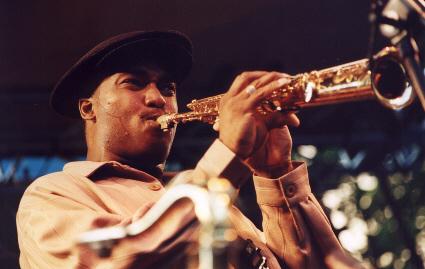 Please find attached my photo of James Carter for the JJA Photo Contest. Below is my brief bio info--
Jazz journalist and photographer Chris Hovan is a regular contributor to All About Jazz, The Jazz Review, The Cleveland Free Times and The Jazz & Blues Report. In addition, he regularly pens liner notes for the Dutch Criss Cross Jazz label. Hovan's photo coverage of the Ford Detroit International Jazz Festival, where this shot of James Carter was taken in 2001, has been featured at All About Jazz.
Christopher Hovan
Jazz Journalist
All About Jazz, Jazz Review, The Cleveland Free Times, Jazz & Blues Report
---
Dan Kassell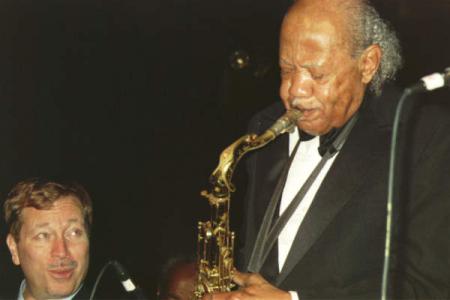 Clarinetist watches David "Bubba" Brooks solo at Chicago Blues with the Harlem Blues and Jazz Band.
Dan Kassell
40 Waterside Plaza
New York, NY 10010
Fax: 212-679-7954 * Tel: (212)779-4636
---
Enid Farber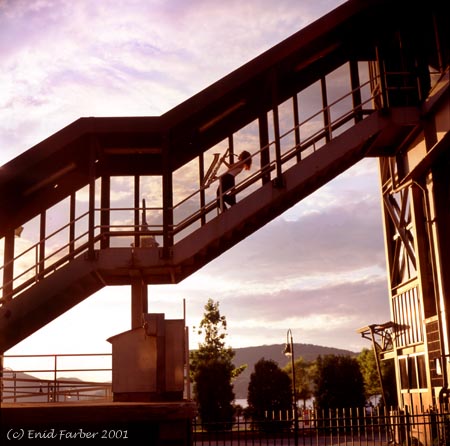 Title: "Claire on the Stairs"/ Claire Daly/ CD Cover Shoot/ Peekskill, NY-July 2001
Enid Farber has been photographing musicians since 1979. Farber's photos are featured mainly and regularly in Jazziz Magazine and have been seen in Jazztimes, Downbeat, Swing Journal, Musica Jazz, The Village Voice, Time Magazine, Psychology Today, The New Yorker, New York Magazine and many other publications domestic and foreign. Some of Farber's photos of Latin Jazz greats will be featured in the Smithsonian Institution's upcoming exhibition, entitled, Latin-Jazz, "La Combinacion Perfecta".
Enid Farber Fotography
665 9th Ave., #2E
New York, NY 10036
212-459-8972 ph and fax
www.farberfoto.com
---
Frank Schindelbeck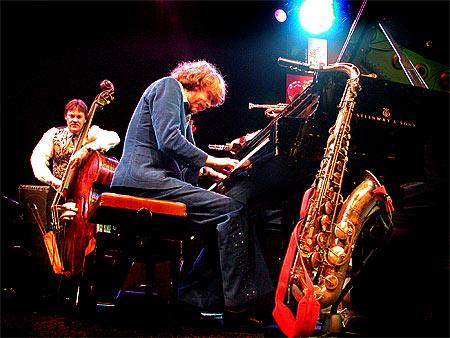 The photography shows Helge Schneider (p) and Rocky Knauer (b) at the German Jazz Festival, Frankfurt 2001.
Some infos about me - freelance photography for more than 15 years (www.schindelbeck.org), webmaster of TheJazzPages - Jazz in Germany www.jazzpages.com.
A website with - beside others - a focus on jazz photography.
Some permanent exhibitions of jazz photography by several photographers (including my own www.jazzpages.com/SchindelbeckPhotographie) are part of the website.
Schindelbeck Jazz Photography
www.schindelbeck.org
Frank Schindelbeck
F Ebert Str 75
D-69239 Neckarsteinach, Germany
Tel. +49 (0) 6229 - 28 20 7 (AB)
Mobil +49 (0) 170 - 504 20 93
Fax +49 (0) 6229 - 28 20 8
---
Gene Martin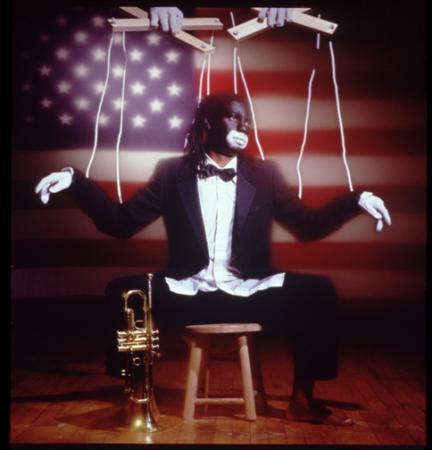 Attached is my submission for Jazz Image of the Year. Enid said to include a short bio: If you want it, here 'tis.
Gene Martin is a personality portrait photographer based in New York City. His highly conceptual portraiture of jazz musicians is widely aclaimed and won him the Hasselblad Magic Eye award in 1993. He has shot covers for most major and independent record labels as well as most jazz magazines worldwide. Between 1988 and 1998 he did 52 covers for JazzTimes alone. He's a member of Professional Photographers of America, EditorialPhoto.com, as well as JJA. He was commisioned by JustinTime Records to create this bold image of trumpeter Russell Gunn.
Gene Martin
Gene Martin Photographics
New York City
---
Jeffrey Kliman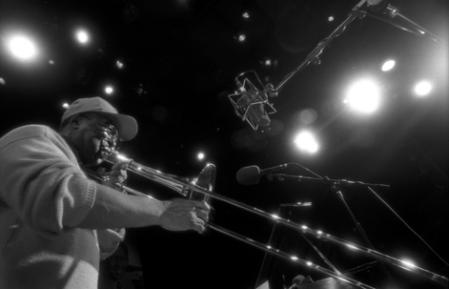 re: my entry of Curtis Fuller. pix taken at the Kennedy Center/NPR & Billy Taylor presents Jazz @ the KC/ Fall 2001.
mini-bio: published in JazzTimes, DownBeat & Jazziz, etc. been photographer for the Kennedy Center's Jazz Programs ( Billy Taylor presents Jazz @ the KC, Women In Jazz & the Betty Carter residency program "Jazz Ahead") for the last 8 years.
Exhibitions include a duo show with friend & mentor Herman Leonard & the upcoming Smithsonian's/ SITES "Latin Jazz" traveling exhibit plus a permanent archive of my jazz images has been set up in the Smithsonian's American History Museum.
email: jeffropix@aol.com
links: www. allaboutjazz.com SEE GALLERY
www.dcjazz.com
---
Joe Salerno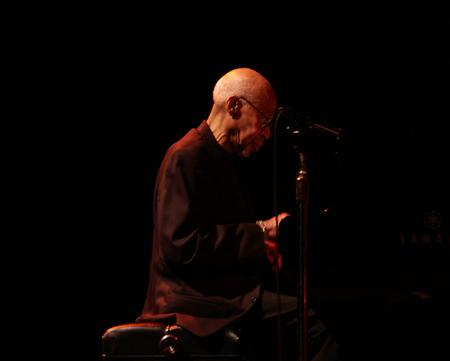 Hello I am submitting a photo I took of TOMMY FLANAGAN last fall on October 24, 2001 at the Masonic Auditorium in San Francisco at the San Francisco Jazz Festival's 'A Love Supreme: John Coltrane 75th Anniversary Celebration' concert. This was one of Tommy's last concerts & I believe his last west coast appearance.
A little bit about myself:
one of 2 staff photographers here at SFJAZZ
full time SFJAZZ staff member
published photos in September 2001 issue of JazzTimes (Jazz & Race symposium)
published photos on JazzWest.com website (San Francisco Fazz Festival
2001 & SFJAZZ Spring Season 2002)
published photos in Planet Jazz (International Jazz Review) Winter
2001 Canadian magazine (Jazz & Race symposium)
---
John Fowler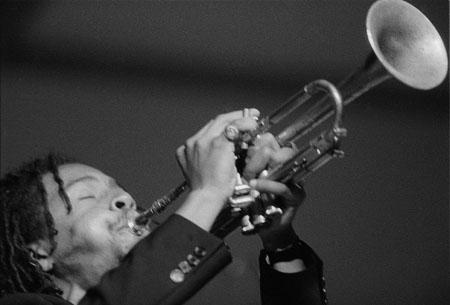 John R. Fowler is a photographer with a particular interest in jazz. He has photographed an extensive list of Canadian and international artists. John photographs almost exclusively in black and white.
John's work reflects a sincere admiration for the artists he portrays. He tries to capture on film the energy, emotion, dedication and skill that these talented artists display while playing their music.
John began a serious study of photography when he moved to Ottawa in 1985. He began attending the Ottawa International Jazz Festival and in 1987 he started to photograph the performers.
John has photographed musicians in clubs and at festivals in Ottawa, Montreal, Toronto, Calgary, Vancouver, Guelph, New Orleans, Chicago, Syracuse and San Antonio.
John's work has been exhibited at the National Art Centre, National Library of Canada, National Press Club and at the Ginn Gallery. John's photographs have been published in CODA, Planet Jazz and Down Beat magazines and used on numerous CD covers, websites and posters. John is a member of the Jazz Journalists Association.
Website: www.jazzphotoguy.com
>Email: jazzphotoguy@yahoo.ca
The attached photograph of Roy Hargrove was taken at the Toronto Downtown Jazz Festival, Toronto, ON, June 2001.
---
Ken Franckling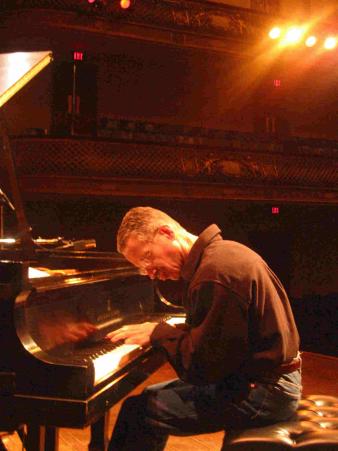 photo of Keith Jarrett, Symphony Hall, Boston.
Ken Franckling is jazz columnist for United Press International and writer for many publ;ications. His photographs have appeared in Jazziz, Jazz Times and many other publications and are in many private collections.
---
Lauren Deutsch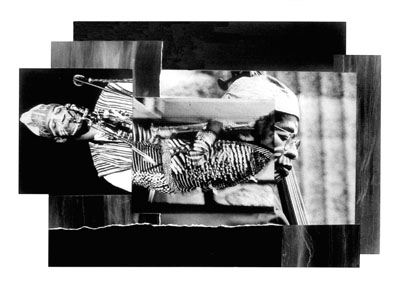 "Ancient to the Future"
Lauren Deutsch
3728 N. Richmond Chicago, IL 60618 USA
Artistic Achievements
1977-79: Photographer/Artistic Director of Photography, Artists-in-Residence Program (CETA) The Artists-in-Residence Program was the largest federally funded arts program since the WPA. In Chicago it helped build the Chicago Council on Fine Arts; the first municipal arts agency in Chicago. Artist-directed, the program linked dancers, visual artists, actors and musicians with City and social service agencies. Ms. Deutsch served as documentary photographer for the program, and as director, developed and administered projects for seven photographers.
1986: Ten years after beginning to look at jazz through a camera lens Ms. Deutsch curated an exhibition by the city's community of jazz photographers at Chicago Filmmakers. Jazz Visions included the work of nine photographers who would convene once a year at the Chicago Jazz Festival. The same year, her work was included in FEDS, an exhibition of works by WPA and Artists-in-Residence artists that was produced by Truman College.
In addition to freelancing for various publications and city agencies throughout the 80s Ms. Deutsch's work was exhibited at several small galleries in Chicago. Her jazz photographs have been published worldwide, and reside in the collections of David Ruttenberg and Clint Eastwood.
1996: As executive director of the Jazz Institute of Chicago Ms. Deutsch has developed citywide programs and produced numerous concert presentations, collaborating with artists, city agencies and cultural institutions.
A member of the community of visual artists in the landmark Fine Arts Building, where the office of the Jazz Institute resides, Ms. Deutsch's work has been exhibited in group shows at the Fine Arts Building Gallery since 1998.
2000: In conjunction with the Association for the Advancement of Creative Musicians' (AACM) 35th Anniversary concert series at the Museum of Contemporary Art, Ms. Deutsch exhibited new works that were the beginning of visualizing music by assembling large-scale mosaics that piece together transformations of movement and sound. Also featured as part of the program was an assemblage of 120 photographs representing 21 years of documenting the members of the seminal collective of musicians who became world renown for their intense creativity.
2001: Ms. Deutsch was invited to exhibit solo at Galeri Fotografii in Poznan, Poland, in conjunction with a national jazz festival touring Poland. A catalogue of work was published. A book featuring 40 of Deutsch's photographs of the AACM, and commentary by musicians and jazz writers will be published in Poland in February 2002
At the request of members of the Moscow Sister Cities Committee, Deutsch created a panel about Chicago jazz for the Chicago Days exhibition at Manezeh Hall in Moscow.
The Jazz Journalists Association nominated Ms. Deutsch for an award in Excellence in Photography. An accompanying exhibition in New York featured the work of Ms. Deutsch and another nominee.
Ms. Deutsch created The Art of Music, a 25-piece installation about the alchemy of music, mounted at Humboldt Park Stables in Chicago.
2002: A solo exhibition, Sound In/sight is scheduled to open in January at the Three Arts Club, a women-artist residence and performance/exhibition space.
---
Mark Ladenson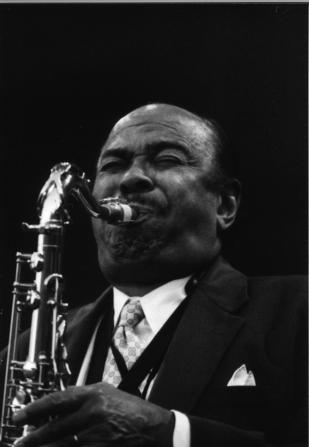 I'm not a member of JJA but a friend hipped me to the competition.
My photos appear in just about every issue of Cadence and have appeared in Coda and JazzTimes. In fact, the first photo, of Miles, in the show I currently have on allaboutjazz.com, was the cover photo of the March-April '98 issue of Coda. (The address for that show is the first URL given in my signature below. I'm not sure if the show will stay on that site after April ends).
I've attached a shot of Benny Golson taken at the 2001 Chicago Jazz Festival--my number one venue over the years for jazz photos.
---
Michael Jackson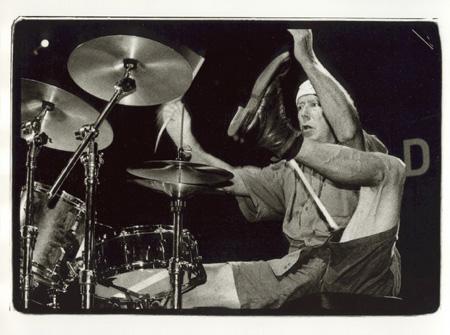 Dear JJA,
My name is Michael Jackson and I hereby humbly attach a nomination for "Jazz Photo of the Year." The choice of image was very difficult but I love Han Bennink and had a very successful day shooting at the Saalfelden Jazz Festival in Austria last summer, so decided to plump for this one. My journalistic credentials include work for the Guardian Newspaper in London, The Daily Telegraph, The Evening Standard, The Daily Mirror, The London Magazine, Soul Underground, Arts Advance, Midweek, The Wire and Jazz on CD. I am currently the weekly jazz editor for New City in Chicago (aka John MacCalkies), contribute to Downbeat and have a monthly column in Jaz zwise (UK).
My photographs appear regularly in the Chicago Reader, Jazzwise and Downbeat and have been known to surface in Jazztimes. I have also shot for Streetwise in Chicago, Delmark Records and the Jazz Institute of Chicago. I have had numerous solo exhibitions of jazz related artwork, particularly in the UK, notably during the Soho Jazz Festival and at the Battersea Arts Centre (London) and at the Outside In Festival in Crawley, Sussex. Recent jazz photo exhibitions include the Juleauboulout Gallery in Brighton, Sussex UK (2000) and annual shows at Shawn Vinson Fine Art in Atlanta, Georgia (1998/1999/2001)- the last of these, in October 2001, was a solo show in conjunction with Atlanta Celebrates Photography Month. During the Atlanta Jazz Festival this May, I will be exhibiting my work at the Churchill Grounds Jazz Club.
I hope you like the image.
In solidarity,
Michael Jackson
1933 W.Estes
Chicago Il 60626
Tel: 773 508 1987 cell 773 297 1665
---
Michael Wilderman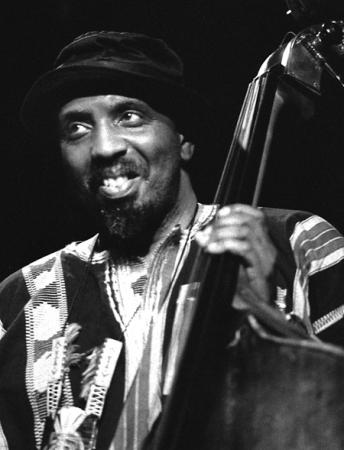 It's William Parker, of course, at the 2001 Vision Festival on May 28th. The requested blurb on me:
MICHAEL P. WILDERMAN - Jazz Visions Photo/Graphics
My internet homepage is - www.jazzvisionsphotos.com
My photos have often been seen in jazz magazines, since 1974 when my first jazz photo was published in Down Beat. I have contributed many photos to Jazz Times, Jazziz, and various other magazines, newspapers, journals, and books. I concentrate on photo-journalism and capturing the individualistic character of the artists in performance portraits. My pictures have also been published regularly in other jazz magazines, journals, and newspapers.
In fall, 2002, my photos will be included in the Smithsonian Institution's Traveling Exhibit on Latin Jazz. They have appeared on jazz T-shirts, videos, and on internet sites. My photos have been used on over 50 CDs, laser disc or LP packages; notably for the Eremite and Mapleshade labels.
---
Mitchell Seidel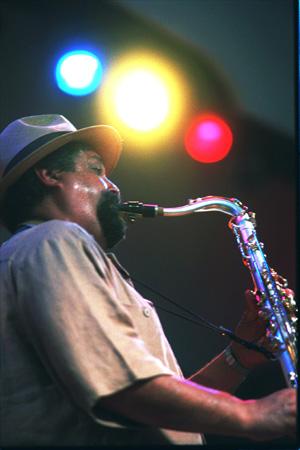 Joe Lovano at the 2001 Caramoor Jazz Festival.
Photo by Mitchell Seidel
Mitchell Seidel, editor of Hot House magazine, was been photographing and writing about jazz musicians for more than 25 years.
---
Peter Gannushkin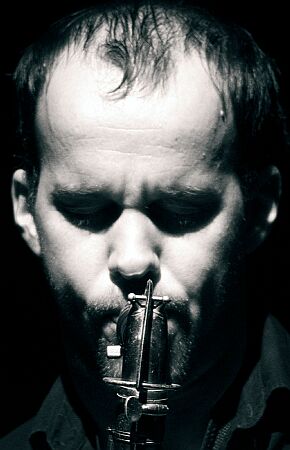 According to Enid's letter, I'm sending you photo of Chris Speed taken during the concert of Myra Melford's Tent in Prague, December 3, 2001.
My pictures were published by Signal to Noise magazine, Leo Records, Jazz Complete/Jazz in Russia on-line magazine, JazzQuadrad magazine (Minsk, Belarus). You can find the archive of more than 2500 photos on-line at Downtown Music web site (www.downtownmusic.net).
My articles were published by several Russian language magazines and e-zines including Jazz Complete/Jazz in Russia and JazzQuadrad.
Currently I work as a web developer for Radio Free Europe/Radio Liberty in Prague, Czech Republic.
Best regards, Peter Gannushkin e-mail: shkin@shkin.com
---
Ronnie James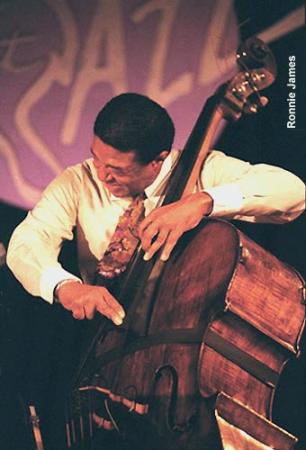 Buster Williams
East Coast Jazz Festival
Double Tree Hotel, Rockville, Maryland
February 2001
© 2001 Ronnie James Photography
A little bit about me: Ronnie James is a freelance photographer who resides in the Washington, D.C. area. He is a contributing photographer to Jazz Times and Down Beat magazines. Among his regular clients are the Thelonious Monk Institute of Jazz, The East Coast Jazz Festival, and Capital Jazz Productions, (producer of the annual Capital Jazz Festival).
Ronnie James
(301) 374-9254
rejames@erols.com
---
Rozanne Levine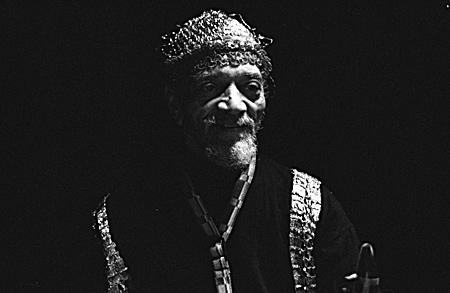 "Marshall Allen, New York City, 2001"
Information about me:
Rozanne Levine is a musician and photographer whose photographs have appeared in the Village Voice, Jazziz, Signal to Noise, Fi Magazine, Belgium's Jazz'Halo, Germany's Wuppertaler Wochenszene and ex_PULS, Spain's Cuadernos de Jazz and France's Taktik, among others. Her work was exhibited at the 2000 Vision Festival's "A History of the Avant Jazz Through the Eyes of Photographers." Her photos appear on CDs by Mark Whitecage,The Fonda/Stevens Group, Anthony Braxton and Tom Tedesco/Karl Berger/Jack DeSalvo/Anthony Cox. A selection of her photos are in Europe Jazz Network's gallery at www.ejn.it/gallery/levine.htm and she can be reached at rozmark@bellatlantic.net
Rozanne Levine
Co-Director
Acoustics
311 Liberty Avenue, #2
Jersey City, New Jersey 07307-4417
Tel/Fax: +1-201-798-2166
---
Russ Neff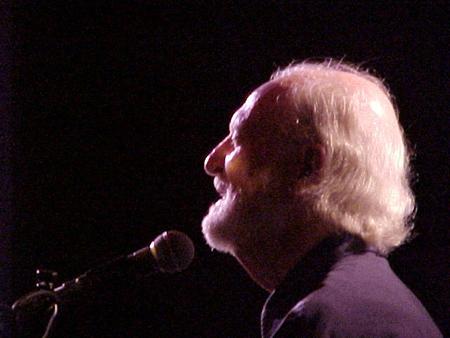 Attached photo of Mose Allison was taken 2/18/01 in Harrisburg, PA at a performance produced by the Central PA Friends of Jazz.
Russ Neff, the photographer, documents many of the performances for the regional jazz society of which he is a co-founder. He has been photographing jazz performances for 16-years. Neff writes jazz features for the local daily newspaper, the Harrisburg Patriot News. He also is the Producer and Host of the Jazz @ WITF website, a part of the website of the regional Public Broadcasting TV & Radio stations.
Russ Neff
MFT Productions
---
Skip Bolen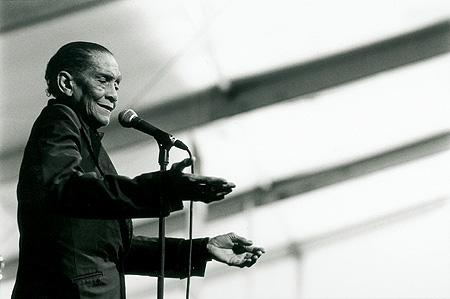 BRIEF SUMMARY:
Born outside New Orleans, Skip Bolen started his photography career at the age of 8. His family traveled a lot and someone had to take the pictures when his father wasn't. His first photo was taken on a Kodak Instamatic 124. Today, Skip prefers shooting with a Leica R8 system and Leica Minilux.
It wasn't until he moved into New Orleans that his interest for both photography and jazz grew. Later he moved to New York City and worked at Conde Nast Publications where he spent most of his time in Greenwich Village basement Jazz clubs and most of his money on Jazz CD's.
Today, Skip currently lives in the Hollywood Hills overlooking all of Los Angeles and travels back home to New Orleans often. Using available and studio light to reveal brilliant images of some of the greatest jazz musicians of today. From way down South in New Orleans to the West Coast Jazz Scene of Los Angeles to the happenin' clubs in New York. Additionally, Skip is the Creative Director of House of Blues Entertainment. Some things never change as he still spends most of his time in Jazz clubs while spending most of his money on Jazz CD's. He is available for freelance photo assignments, commissions, CD covers, publications, galleries, and photo sales.
Online portfolio at: www.skipbolenstudio.com
PUBLICATIONS, AFFILIATIONS & CURRENT WORKING ACCREDITATION'S:
Skip Bolen's jazz photography has since appeared in the CBS News Productions' episode of "Legendary Hangouts" hosted by Morley Safer, the Jazz Day L.A. exhibit in the Grand Hall of Los Angeles' Dorothy Chandler Performing Arts Pavilion and Los Angeles Jazz Society's Annual Jazz Tribute and Awards Dinner & Concert. Additionally his photography has been featured in Jazziz, JazzTimes, Where Magazine, L.A. Jazz Scene publications and on the Telarc label as well as various independent label CD packages and gallery shows.
His studies includes the International Center of Photography in New York City. He is currently a member of the Jazz Photographers Association, Jazz Journalists Association, International Association of Jazz Educators, Los Angeles Jazz Society and Advertising Photographers of America.
---
Tom Mallison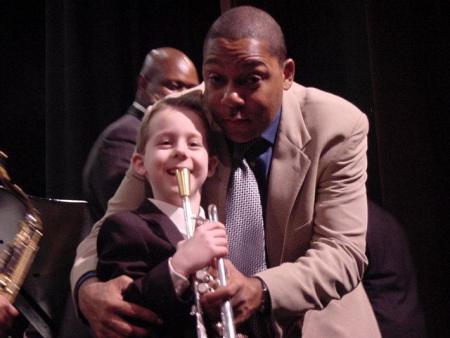 Here is Wynton Marsalis with a 4 year old, Oliver, at a Lincoln Center Jazz Orchestra Performance.
I call this "The Tradition Lives On" or "Passing the Trumpet"
Tom the Jazzman (Mallison)
---
Van Nguyen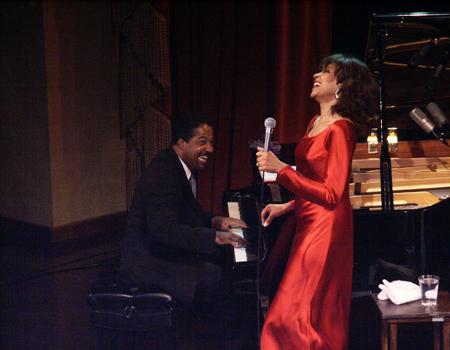 Photo: Mary Stallings & Eric Reed,
Shot on November 1, 2001 at The Herbst Theatre, San Francisco
Shot with Minolta DiMage 7 Digital Camera
Photographer: Van Nguyen
Graphic Designer & Staff Photographer for SFJAZZ
SFJAZZ (San Francisco Jazz Organization) is the leading non-profit jazz organization on the West Coast and one of the most important jazz presenters in the world. Dedicated to encouraging the growth of jazz, and jazz audiences, in the San Francisco Bay area and beyond, SFJAZZ presents a wealth of year-round programs, including the internationally acclaimed San Francisco Jazz Festival, the SFJAZZ Spring Season under the artistic direction of renowned saxophonist Joshua Redman, as well as numerous community outreach and educational programs.
Van Nguyen
Graphic Designer/Staff Photographer
SFJA ZZ
415.398.5655 x102
vnguyen@sfjazz.orgwww.sfjazz.org
---
Jazzhouse.org Entrance