2004 JJA Jazz AwardsSM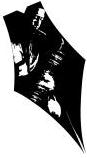 Dick Gregory, comedic and yet serious social activist, was guest host at the Jazz Awards at B.B. King's in New York.
This year's JJA Jazz Awards celebration was a cocktail-and-supper party with musical entertainment on Tuesday, June 15 at B.B. King's Blues Club and Grill, 237 W. 42nd St. in New York City from 4 p.m. to 7 p.m.. At www.JazzJournalistsAwards.com there are photos and sound samples of many nominees, plus news of celebrity guest hosts and musical performances at the Awards.
A Team Award winners at B.B. King's are:
Les Paul, guitarist, inventor, and recording innovator;
recording engineer Rudy Van Gelder, celebrating his 50 years of work with Blue Note Records.
Arthur Barnes, senior vice-president for external affairs, HIP Health Plan of New York, for his work with the Jazz Foundation of America, the New School Jazz Program, and the Arts Education Program of the Clara Barton High School for Health Professionals;
Bethany Bultman, outreach chair of the New Orleans Musicians Clinic;
R. Jarett Lilien, CEO of E-TRADE.com for his work with the Jazz Foundation of America to establish a residence for jazz musicians in need;
Sandy Jackson (widow of Milt Jackson), for her work with Veritas Therapeutic Community Foundation Inc.'s Friends of Charlie Parker benefit for drug rehabilitation programs.
Music confirmed for the Jazz Awards celebration at B.B. King's —
The Renee Cruz New School Jazz Band
Judy "Blackbird" Bady Quartet
Dewey Redman Quartet
Doug Wamble, solo guitar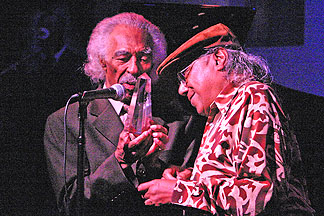 Mr. Gerald Wilson presenting an award to Mr. Horace Silver. Photo © by Skip Bolen. More photos.
The JJA Jazz Awards West Coast Party, also a cocktail and supper event with music, was held Monday, June 21 from 7 p.m. to 10 p.m. at the Jazz Bakery, Los Angeles.
A Team Award winners at the West Coast Party are:
Horace Silver (receiving his award from Gerald Wilson) for his establishment of scholarships for gifted piano students;
Chuck Niles (posthumously; his award will be received by his daughter, Stacy), in recognition of his career as jazz radio voice of the Los Angeles Area;
LaRue Brown Watson (widow of Clifford Brown), for her 30 years of volunteer work in jazz education;
Dr. Paul Martin and Dr. Margaret Ray, who treated the late Billy Higgins for liver cancer.
Music Confirmed at the JJA Jazz Awards West Coast Party —
Bennie Maupin Ensemble
Vinnie Golia Band
Roberto Miranda, Nate Morgan, and Dwight Tribble
Among this year's sponsors of the Jazz Awards are: BETJazz; Blue Note Records; E-TRADE.com; HEI-Arts International; HIP Health Plan of New York; Hot House magazine; Iridium Jazz Club; Marsalis Music; Michelob; Pfizer Inc.; WBGO-FM Jazz 88.